Lessons in Playing Safe and Staying Safe – this New School Term
04 September 2009 14:16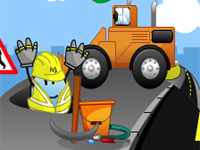 With many children and young people returning to school in Limavady, Northern Ireland Water (NI Water) is issuing a 'stay safe' message.
Essential work to upgrade the sewage infrastructure in the town is continuing and the organisation considers it imperative to emphasise the importance of staying safe for those living near to construction sites.
A Northern Ireland Water Spokesperson said:
"Our programme of work on Roemill Road is progressing well and we are continuing to work hard to complete this on schedule. Safety barriers and fencing, along with signage, have been put in place to prevent members of the public entering the working area and to warn people that a construction zone is in operation. To help us carry out this essential work in a safe and effective manner, I would urge parents to stress to their children the risks connected to playing around areas of construction.
"We strive to operate an excellent health and safety system and trust local residents will help us sustain this, by exercising caution when in the vicinity of the construction area".
NI Water is spending millions of pounds each day repairing and updating the water and sewage network across Northern Ireland. The work in Limavady, which is due to reach conclusion in early October, represents an investment of over half a million pounds.