Review Helps NI Water Improve Leakage Data
21 October 2009 11:18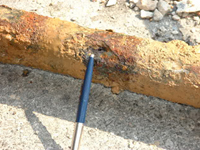 NI Water's work to improve data relating to water leakage has taken a step forward with completion of the first year of a two-year review.
The review is aimed at revising the methods used to calculate water leakage data and has established a new baseline of 180.9 Ml/d. This development is the latest stage in the company's ongoing programme of work in this area. Previous work on leakage has seen a 46% reduction since 2001/02, equating to 134 Ml/d.
Acting Director of Operations, David Dangerfield, commented:
"Considerable investment in watermains rehabilitation during recent years has enabled the company to redress the historic underinvestment which occurred in the water and sewerage infrastructure. This has improved the security of our customers' water supply and has enabled us to take the next step - addressing the methods used to calculate water leakage.
"The established practice used to measure leakage has traditionally been based on the best data available. This was not necessarily company or Northern Ireland specific. The review will ensure the data we now use is specific to NI Water.
"Results from the review mean the reported level of leakage has been rebased and now stands at 180.9 Ml/d. This new figure is a new baseline and will provide the basis for future targets set in conjunction with the Utility Regulator.
"It is important to note however that information on past leakage reduction remains valid and correct; this does not take away from the progress already made to date and does not mean that additional water is being lost.
"What it does mean, however, is that the review will provide us with a robust baseline for the future. This, coupled with continued investment, will ensure NI Water is in line with current industry best practice."