Half Term Homework From NI Water
16 February 2010 13:55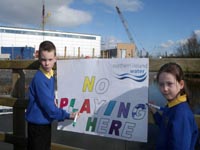 As schools across Northern Ireland go on their half term holidays, Northern Ireland Water (NI Water) is reminding children and parents to stay safe around areas of construction.
The safety message comes as NI Water continues with sewer improvement work in Ballyhalbert and Portavogie. This upgrade work, including the upgrading of wastewater treatment facilities in Ballyhalbert, Co. Down represents an investment of almost £4 million.
The work is part of long-term plans to improve local infrastructure, reduce the environmental impact of wastewater services in the area and allow for future development.
Project Manger, Jonathan Rowe said:
"Understandably some children are drawn to construction sites as exciting places to explore, but they are not playgrounds and playing on them can have dangerous consequences.
Where work is carried out, safety barriers, fencing and signage will be put in place to warn people that construction is in operation. However we would urge parents to help us maintain public safety by explaining to their children the dangers connected to playing around construction zones."
If any member of the public has any questions relating to this or would like to request further information, they can contact NI Water's customer relations team via Waterline on 08457 440088.