NI Water Brings The 'Bag It and Bin It' Message to the Glen Road
30 March 2010 8:36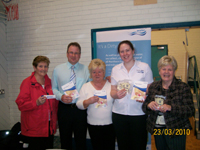 NI Water brought the 'Bag It & Bin It' message to the Glen Road recently during an environmental event organised by Voluntary Services Bureau at the Glen Road Community Centre in West Belfast on Tuesday 23rd March.
Gary Little, NI Water's Customer Manager for the area, attended the event:
"Over the years we have found some pretty unusual things dumped into the sewerage system. Recently, we found items such as fire extinguishers and pieces of wood in the Glen Colin area. Putting rubbish such as this down the sewer can cause out of sewer flooding, possibly even flooding homes in the area.
"The most common cause of damage, though, comes from flushing baby wipes and cotton buds down the toilet. The average size of a sewer pipe is 6inchs and only designed to carry human waste and toilet roll. Items such as these, specifically baby wipes, are designed to absorb water and do not break down like toilet paper. The wipes and cotton buds clump together and cause blockages in the sewer line."
The community can play an active role in protecting their homes and environment. NI Water spends in the region of £1.7 million per year clearing blocked sewers, this is money which could be better spent improving services to the local community.
To help the system work properly, we need to use it responsibly. Whilst NI Water has a responsibility for the sewerage system, everyone in Northern Ireland has a duty to dispose of their waste appropriately.