Enniskillen Depot Plays Joint Host to Annual Skillbuild Competition
16 June 2010 14:43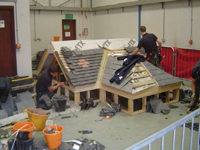 NI Water's Enniskillen depot and South West College's Enniskillen Skills Centre recently played joint host for the annual Skillbuild NI National Finals competition held in May 2010.
The event, which aimed to raise the profile of the construction industry by demonstrating excellence, encouraged young people who have chosen to work in the construction industry to participate in the competition and enabled them to benchmark their skills against fellow competitors from across Northern Ireland. It also provided the winners of the competition with the opportunity to compete for medal success at National and WorldSkills levels.
NI Water's Sean O'Reilly, who helped prepare the depot for the event commented:
"The college was looking for a facility which offered them a range of open spaces in order to set up work stations, and our depot in Enniskillen was exactly what they were looking for.
"Local Networks Water staff helped the event organisers set up the competition by clearing space for them unloading equipment required for the work stations.
"In this day and age, it was inspirational to watch such young talent demonstrate their skills with absolute confidence. The future in construction is secure."
Event Organiser, Eric Ferguson from Skillbuild NI, explains:
"Skillbuild NI competitions are designed to challenge the ability of the competitors to follow detailed instructions, produce accurate and neat work outputs and be economical with materials whilst working to very strict timescales.
"NI Water's Enniskillen depot was the perfect venue for the additional open floor space our competition required by accommodating five of our thirteen craft trades adjacent to the Skills Centre. This was absolutely perfect for ease of spectator access between the two joint venues. We are extremely grateful to all the NI Water staff who helped us make the event such a great success and made us feel so welcome."
NI Water rented the site to the Southern Regional College for a total of one month.