Regional Development Minister Opens £13.5m Wastewater Treatment Works in Enniskillen
17 June 2010 15:27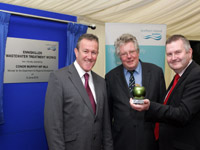 Regional Development Minister, Conor Murphy, today officially opened an award winning £13.5m Wastewater Treatment Works in Enniskillen.
The state-of-the-art facility is designed to cater for a population of 35,000 and will ensure the latest environment agency standards and the Urban Wastewater Treatment Directive are met.
Welcoming the project's completion the Minister said:
"The completion of this works will have a major impact on the local community and its economy, and will assist with the ongoing development of the area including the new Erne Hospital.
"It will also mean a safer environment, particularly in relation to the improvement of river water quality in Lough Erne. The works was recently awarded a Green Apple Environmental Award in recognition of the innovative way in which the building harvests rainwater.
"My department's ongoing investment will allow NI Water to respond to increasing demand and to provide consumers with a world class wastewater service."
Laurence McKenzie, Chief Executive of NI Water, added:
"NI Water is committed to investing in projects that will deliver the best innovative solutions and benefit the local community, economy and environment.
"The fact that this Treatment Works has already been publicly recognised for its environmental practices is testament to how seriously NI Water takes its role as environmental stewards.
"The delivery of this project is something that we at NI Water are proud of. As the ultimate owners of NI Water, and the beneficiaries of this work, we hope it is something that the local community can also take some pride in."