Illegal Discharges in Public Sewer Carries Serious Risks
09 September 2010 10:26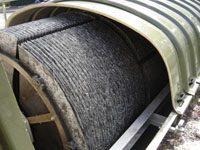 NI Water has recently discovered illegal discharges beside the newly constructed Kinawley Wastewater Treatment Works (WwTW) and the Lisnarrick WwTW in Fermanagh.
The discharge at Kinawley WwTW is thought to be an oil type substance and was discovered after it damaged newly constructed filters at the works which is estimated to cost £5,000 to replace. The septic sludge found at Lisnarrick Works caused the biological activity to be severely reduced and resulted in localised pollution to the River. The resulting clean up cost NI Water approximately £1,500.
NI Water invested £700,000 in constructing the Kinawley Works to enhance local water quality in the River Moher and to cope with increased development in the area. Illegal discharges such as this one and the one at Lisnarrick WwTW have the potential to cause serious problems to the operation of the Works and could result in pollution incidents.
Stephen Meikleham from NI Water explains:
"Dumping waste in this manner may be a solution for a small number of people, but it has major repercussions for NI Water and the local community. Money, time and resources are used to remedy the situation - money which could be better spent on improving services in the area.
"The source of these illegal discharges is being investigated and appropriate action will be taken against anyone found making such a discharge to a public sewer."
NI Water is appealing directly to those responsible to cease this activity immediately. NI Water needs the help and support of the whole community to protect these vital resources and would ask the public to report such incidents to their local PSNI station or to Waterline on 08457 440088.