Hi Ho, Hi Ho, It's Down the Sewer We Go
09 September 2010 13:49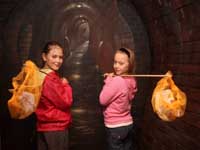 At NI Water's Heritage Centre of course, where this weekend you can experience the sights and smells of Northern Ireland's sewerage system, past and present.
To celebrate this year's European Heritage Open Days, NI Water will be opening the doors of its heritage centre on Saturday 11th and Sunday 12th September from 10-2pm.
The heritage centre, based at Duncrue Industrial Estate, Belfast, dates to the 1800's, and was home to the old Belfast Wastewater Treatment Works. To this day, it houses a pumping wheel which is over 100 years old and a screening machine. The amazing part is that they actually still work!
NI Water's Jane Jackson, Environmental Education Manager, discusses what people can expect to see and learn:
"Visiting the centre is a great opportunity to travel through time and learn about the history of the sewers and how one of the most historic projects of our time, the Belfast Sewers Project, took place right under our feet.
"Over the two days, people will learn that the city's existing sewerage infrastructure dates back to the Victorian era. There was no running water or indoor toilets, a whole street full of people were expected to use the same toilet, usually located at the end of the street!"
For a map and directions to the heritage centre visit http://www.ni-environment.gov.uk/