Did You Know Only 1% of the World's Water is Drinkable?
13 September 2010 8:51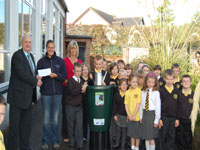 This is just one water wise fact children from Doagh Primary School in Ballyclare learned last year when they took part in NI Water's 'Water Conservation - Spread The Word' schools initiative.
A total of 14 schools took part in the scheme which was aimed at spreading the water conservation message through school children and their parents. Each pupil received Domestic Water Audits to fill in at home which showed how much water they used and wasted.
Anna Marshall, NI Water's Education Officer explains:
"NI Water places great importance on educating young people in the vital role water plays in our lives. This initiative is another innovative way of doing just that. Children take home messages of saving water around the house and develop good habits such as turning off the tap when they brush their teeth. Whilst learning themselves, the children are actually teaching their parents as well.
"Last year over 2000 audits were given out. HiPPO bags were given to each school that entered. Those who returned 75% or more completed audits received NI Water's water saving pack which included a waterbutt, watering cans and drought resistant seeds.
"Doagh Primary School were this years' winners as they achieved the highest percentage of returns. We were delighted to visit the school and present them with a water saving pack including a waterbutt and a cash prize of £250!"
NI Water is now launching its Water Saving Challenge for 2010/11 and would invite any school who would like to take part to write to the education team at education@niwater.com