NI Water team get to work at the NI Hospice
01 October 2010 11:10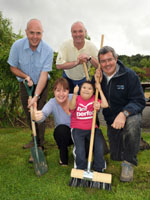 The project team working on NI Water's Water Mains Rehabilitation Programme recently undertook some voluntary work at the Northern Ireland Children's Hospice. The team got to work on the 5 acre site with the busy task of landscaping, weeding, and painting around the grounds of the Children's Hospice. The team also donated much needed funds and contractors Farrans and Lagan Construction presented the hospice with a donation of £1000.
Northern Ireland Hospice provides care to adults, children and young people living with a terminal illness both at hospice and at home. Services are available 24 hours a day, every day of the year and there is no charge. With limited government funding Hospice relies heavily on voluntary income and legacies to continue providing essential hospice care to adults, children and their families across NI.
The second phase of the ongoing Water Mains Rehabilitation Project marks a planned investment of over £100million over the next five years.
The project entails upgrading in excess of 1000 kilometres of water main infrastructure throughout Northern Ireland during this five year period, dramatically improving the quality, reliability and flexibility of water supply across Northern Ireland while also reducing leakage.