Londonderry, Take a stand against illegal standpipes!
12 October 2010 9:29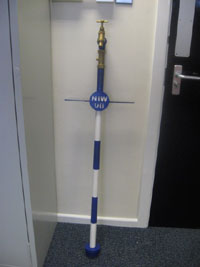 NI Water is appealing to the public to stop the illegal use of standpipes to access the watermains network, particularly around the Five Mile Straight area of Maghera.
Over recent weeks, unauthorised third party use of NI Water's network has resulted in residents living in Maghera experiencing discoloured water. It is essential that NI Water controls access to maintain the safety, reliability and quality of water delivered to customers.
In order to combat unauthorised third party use of its network, NI Water has made available a corporate standpipe that must be used to connect to a hydrant when drawing water directly from the mains.
The use of this single corporate standpipe by those authorised to use the system will allow for easier identification of illegal use of the watermains network. NI Water's Frank Stewart, explains further:
"Widespread abuse of NI Water's network is happening on a daily basis and must be stopped. It is illegal to take water from NI Water's network without permission and without paying for it. This activity can cause discolouration and jeopardise the quality and delivery of water. It can also result in damage to hydrants which are a vital tool for the NI Fire and Rescue Service and can cause leaks resulting in wasted water.
"To gain permission to use the network, customers with legitimate requirements must obtain a license from NI Water to permit temporary access. A condition of this license is that NI Water's corporate standpipe, marked in our company colours of blue and white, must be used."
A license and further information can be obtained by contacting 08458 770002 or email standpiperental@niwater.com. These contact details can also be used by customers to report suspected illegal use of NI Water's network.