Not Every Bogus Caller is this Obvious!
20 October 2010 10:20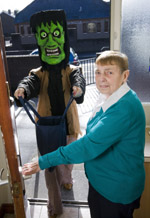 With Halloween approaching, NI Water is asking customers not to be fooled into letting bogus callers into their home – unlike trick or treaters, they will not be an obvious villain and quite so easily identified!
Bogus callers often claim they are from the 'Water Service' or 'Water Board' and they need access to your home to check your water, or check for a leak on your property. Do not let these people into your home unless you have thoroughly checked their ID first.
All NI Water ID cards should have a photo of that person, their name, a unique serial number and our logo. Attach your door chain, if you have one, and if not, ask the caller to hold the ID up to a window or put it through your letterbox so you can read it properly without opening your door. Remember, no ID, no entry.
David McClean, Customer Service Manager at NI Water gives this advice:
"If someone claiming to be from NI Water calls at your door and you are unsure if they are genuine, do not let them in. Simply call our customer helpline on 08457 440 088 where staff will be able to confirm their identity and if in fact they should be at your property.
For peace of mind, customers can sign up to NI Water's new Customer Care Register designed to meet the needs of those requiring extra help or support. Those on the register can also arrange a special password which can be used by NI Water staff when calling at your home."
When you are phoning to clarify the ID, Customer Service staff will check:
· Name
· Serial number
· Date of issue
Don't be afraid to check the ID, genuine callers won't mind waiting while you do, and NEVER allow anyone access to your home unless you are sure of who they are.
The same message applies to phone calls from people claiming to be from NI Water and asking for bank details. Do not give this information over the phone. Simply hang up and report the call to the police or the NI Water customer service helpline.
For further information or to sign up to our Customer Care Register, please phone 08457 440 088.