Local pupils get planting at £2 million Sewer Improvement Scheme at Belvoir
15 December 2010 8:25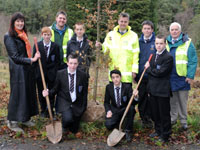 Pupils from Newtownbreda High recently got to work helping NI Water to re-plant 35 trees following the recent completion of its £2 million Trunk Sewer Project at Belvoir Forest Park.
Over the years, a number of landslips damaged the previous sewer pipe resulting in the area becoming too unstable to carry such a vital pipe.
Responding to the challenge, NI Water and Forest Service worked together to relocate part of the sewer away from the slope, minimising the chance of the sewer damaging the unique environment in Belvoir Park.
The two agencies worked closely together to ensure the programme of work was carried out in an environmentally sensitive manner. The team also worked together to re-introduce native species to the park.
Grahame Millar, NI Water's Project Manager said:
"We are delighted to welcome local pupils along to help plant trees as part of our programme of reinstating the forest following the recent completion of our project.
"This major investment will bring many benefits to the local community, and will significantly improve the sewerage infrastructure in the area."
Belvoir Trunk Sewer Project was successfully completed in partnership with Forest Service, Graham Construction and Atkins. The project is one of the many projects being undertaken by NI Water to deliver a 21st century infrastructure to the people of Northern Ireland.