'E' District 'Quickcheck' Re-launched
04 March 2011 7:59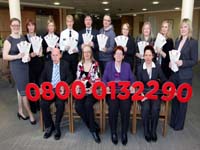 The Police Service of Northern Ireland in conjunction with Virgin Media Business and Fold Telecare are reminding people living in the Craigavon area about the Quickcheck initiative which tackles the issue of bogus callers.
The 24-hour freephone 0800 013 22 90 telephone service simply enables householders to call and verify the individual identity of anyone calling at their door.
Leaflets and posters providing information on the service will once again be distributed throughout Craigavon to houses, shops, churches, community centres, libraries, community groups and organisations in the coming months.
Utility companies have been also working hard to promote and raise awareness of Quickcheck within their organisations and to their customer base. Firmus Energy, Phoenix Natural Gas, Northern Ireland Electricity, Northern Ireland Housing Executive and Northern Ireland Water are all supportive of the scheme.
Discussing the initiative, police community safety Sergeant, Wendy Walker said: "Bogus callers depend on the good nature and good will of others. They tend to target the more vulnerable members of our society and in particular senior citizens. I would advise everyone to be cautious of unexpected callers.
"Do not open the door unless you know the individual. Simply ring 0800 013 22 90 and your call will be answered by a trained operator. They will take the details of the company which the caller claims to be visiting on behalf of, then contact the organisation and determine if the caller is genuine. If there is something suspicious the operator will contact the police directly."
Councillor Michael McGoldrick, Chair of Craigavon CSP and DPP added: "Craigavon Community Safety Partnership (CCSP) in conjunction with Craigavon District Policing Partnership (DPP) and local Police are always aiming to raise awareness that not all callers to homes are genuine. Quickcheck is an ideal service to combat this type of criminality, especially for older people.
"It means that the householder only needs to make one telephone call if they are in doubt about a caller and as it's a freephone, it encourages people to use it more readily," she said.
Quickcheck posters and leaflets are available in community and leisure centres, libraries, health centres, community and residents associations throughout Craigavon. Information about the initiative has also been included in more than 3 editions of the Neighbourhood Watch newsletter.
Kelly McKimm from Fold Telecare said: "Fold is committed to providing services which support those who feel vulnerable or at risk. We are delighted to be working with the PSNI, and Virgin Media Business in this initiative which encourages those within our communities to be stranger aware."
Bogus callers use various stories and other ploys to gain access to a person's home in order to steal. They have been known, for example to pose as official callers from local authorities, utility services or companies on the pretext of wanting to inspect gas, electricity or water supplies.
Members of the public should follow this advice when dealing with unexpected visitors:
Ӣ Think before you open the door - use your chain and spy hole or look out of the window to see if you recognise them.
Ӣ Ask callers for proof of identity. Genuine tradesmen should carry a photographic identification card. Check this carefully. If you are unsure, telephone Quick Call.
Ӣ Beware of callers who attempt to distract you by claiming that they have seen something untoward in your rear garden or somewhere that may encourage you to leave your house - they may have an accomplice who is waiting to act upon this distraction.
"¢ If you are not convinced of the identity of the caller, don't let them in. Ask the caller to come back later and arrange for a friend, relative or neighbour to be present on their return.
"¢ If they do phone and request your details, don't disclose them. Instead ask the caller for their details and tell them you will phone them back. When you hang up, report the matter to the police.
Anyone who would like further crime prevention advice on this or any other subject should contact their local police on 0845 600 8000. Anyone with information about bogus callers or who witnesses any suspicious activity should also contact police.