Cloughmills upgrade complete
23 May 2011 13:15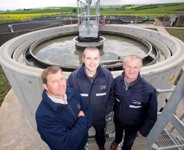 NI Water is pleased to announce that a £800,000 investment to upgrade the Cloughmills Wastewater Treatment Works has now been completed.
Work on the new upgraded Cloughmills facility was carried out at the existing facility located just off the Main Street in the village. The upgrade has increased the current capacity at the treatment works and enabled it to cater for a future population of almost 1,900.
Neil Brady, Project Manager said:
"We are delighted to report that work has finished on the £800,000 Cloughmills Wastewater Treatment Works. This is excellent news for the Ballymoney area as the investment will improve wastewater facilities for the local population, river water quality and meet NIEA and EU Environmental Compliance Standards.
Cloughmills Wastewater Treatment Works was completed in partnership with Graham MWH Treatment and RPS.