RDC Visit NI Water Call Centre
22 June 2011 9:10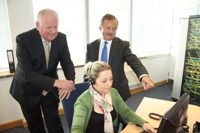 NI Water recently welcomed the Northern Ireland Assembly Regional Development Committee to its call centre in Belfast where they held their regular weekly meeting.
Trevor Haslett, Interim Chief Executive, explains:
"The committee saw first hand the front end of our customer operation, met the staff who handle everyday queries and those who liaise with our elected representatives. They were briefed in relation to the improvements we have made in this area since the freeze/thaw incident at Christmas. For example, the improvements to our website, how we have increased the number of telephone lines within the centre, the developments we have made to our customer care register and overall customer service transformation.
Over the last 6 months, NI Water has been working towards delivery of the recommendations put forward by stakeholders such as the Regional Development Committee and the Utility Regulator. NI Water remains focused on completing the remainder of these recommendations and working closely with the newly appointed committee members, our customers and all our stakeholders. This work is a priority for the company as we constantly strive to improve the service we provide."