Kennedy Announces £4million Rural Wastewater Programme
25 August 2011 16:12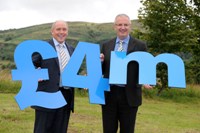 Regional Development Minister Danny Kennedy has announced a £4.3million extension to NI Water's Rural Wastewater Investment Programme.
Rural villages across Northern Ireland will benefit from this further investment in environmental improvements as NI Water extends its Rural Wastewater Investment Programme for a fourth year.
The additional funding brings to over £22 million, the amount of money NI Water has allocated since 2008 specifically to upgrading rural wastewater treatment systems which serve populations of up to 300 people.
Announcing the additional funding, the Minister said: "NI Water's Rural Wastewater Investment Programme was set up to tackle widespread refurbishment of some of the 900 minor wastewater works that span the length and breadth of Northern Ireland.
"This major investment will completely overhaul existing outdated systems; implement the latest technology available to bring about environmental benefits and facilitate future local development for the next 10 years."
Danny Kennedy added: "The Regional Development Strategy earmarks growth in our smaller towns, villages and rural communities to maximise their potential. This investment programme can help support that aim as well as enhancing the local environment."
This latest phase of the contract has once again been awarded to local companies, BSG Civil Engineering (Maghera) and Williams Industrial Services (Mallusk), who as a joint venture (JV) have undertaken the last three years' work on the programme – completing 65 sites - with technical support from McAdam Design in Belfast.
Welcoming the JV team back on board, Bill Gowdy, Acting Director of Engineering Procurement said: "The project is both complex and logistically challenging but the rewards are far-reaching in terms of improved water quality in local rivers.
"NI Water is pleased to work with local companies on this scheme and will continue to develop new technologies and processes that will benefit wastewater services for our customers."