Launch of vital 'Lag and Tag' message
15 September 2011 14:02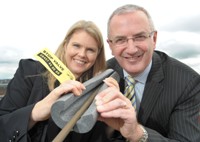 Regional Development Minister, Danny Kennedy and NI Water's Director of Customer Services Delivery, Sara Venning, joined forces to highlight the need to begin preparations for winter.
NI Water has produced a bright tag for customers to loop around the stop valve in their premises. This will ensure they are aware of the location of their stop valve and it will be easily identifiable in the event of a burst pipe.
Minister Kennedy commented:
"We are all aware of the disruption and genuine hardship faced by many people last winter. With that in mind, now is the ideal time to look at what the agencies, including NI Water, are doing and what the public can also do to prepare for the winter ahead."
Sara Venning explained the importance of the tags:
"The stop valve tags are a perfect example of how NI Water can work with the public and local businesses to assist them in their winter preparations and highlights the role everyone needs to play to reduce the risk of disruption to water supplies. Simple steps such as lagging the pipes in your premises and locating your stop valve can be vital during a freezing winter."
The 'lag and tag' message is the first of many we hope to promote ahead of winter.
A stop valve is used to shut off the flow of water in a pipe. Stop valve tags are available to customers by phoning the Waterline number 08457 440088 or emailing waterline@niwater.com
NI Water's 'Winter Warmer' video can be viewed on our Youtube channel http://www.youtube.com/northernirelandwater