Renewed Commitment to Vulnerable Customers
18 July 2012 16:22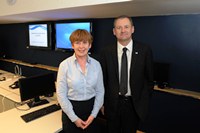 NI Water recently renewed its commitment to improved services for those on its Customer Care Register at the company's third Vulnerable Customer Forum held on 15th June.
The event, held at the customer contact centre in Belfast, saw representatives of numerous groups, including Health Trusts, the British Red Cross, Fold Telecare, Commissioner for Older People and the Consumer Council, gather to learn exactly how NI Water fields calls from customers who require extra help. Participants were treated to an in-depth tour of the working contact centre and given an update on NI Water's progress in provision for older and more vulnerable customers.
Liam Mulholland, NI Water's Head of Customer of Service Delivery, said: ''We are delighted at the success of this event, part of an on-going engagement programme with representatives of the vulnerable and older person community. It was good to bring the group to our contact centre so they could see first-hand the scale of our call centre operation and learn exactly how we deal with vulnerable customers when they contact us.
"We also took time to explain how we reacted to the Boil Water Notice in Ballymoney last November, when numerous customers on our Customer Care Register were affected. NI Water ensured that provision of alternative supply to vulnerable customers was a priority during this incident.
"Building and maintaining stakeholder relations is very important to NI Water, and we look forward to continuing to work alongside these organisations and individuals in the future.''
NI Water maintains a Customer Care Register, which individuals and organisations can sign up to ensure they are prioritised for alternative water supplies in the event of a significant supply disruption.
The Register also allows for a range of free additional services if customers have a disability, are older consumers, have a serious medical condition or need help for any other reason.
If you believe you may be eligible, or know someone who is, please contact Waterline on 08457 44 00 88 or via email at waterline@niwater.com