£3.5m Upgrade for Carmoney WTW Complete
23 August 2012 15:06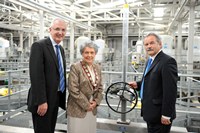 Regional Development Minister Danny Kennedy today visited the recently completed £3.5 million upgrade at Carmoney Water Treatment Works in Londonderry.
Welcoming the completion of the project, Danny Kennedy said:
"This project will deliver significant improvements to NI Water services in Carmoney and the wider East Londonderry area. Customers will benefit from increased security of supply and drinking water quality."
"This project will also improve the existing facilities, allowing for future demand and growth in the area well into the 21st century."
Trevor Haslett, Chief Executive of NI Water added:
"NI Water is continuing to deliver the best ever drinking water quality and the upgrade completed here at Carmoney is just one example of the many projects being undertaken to improve services to our customers and deliver a modern 21st century infrastructure to Northern Ireland.
"The improvements made at the plant will also ensure that it operates more efficiently and will continue to meet Northern Ireland Environment Agency (NIEA) and European standards."
Farrans Construction was the contractor for this project with AECOM Design Build Ltd providing design and technical support. (AECOM provided the M&E equipment whilst Farrans were their civil JV partner).