A2 Belfast/Bangor Watermains Replacement Work Complete Four Weeks Ahead of Schedule
25 September 2012 14:03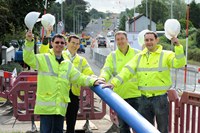 NI Water is pleased to announce that work has been completed four weeks ahead of schedule on the A2 Belfast to Bangor Road, having taken just over 15 weekends instead of 20 weekends as anticipated.
Work on the A2 was a key part of the on-going £2million investment project to improve and upgrade the watermains network in the North Down area, as part of NI Water's overall £100 million Watermains Rehabilitation Programme.
Commenting on the project, Stephanie McCullagh, Head of NI Water's Watermains Rehabilitation Programme said:
"I am delighted to announce the completion of this work and would like to thank all those involved in helping to ensure the project ran smoothly and finished ahead of time. I would particularly like to pay tribute to the construction teams who worked tirelessly over the summer weekends since June. The work was successfully completed in close consultation and collaboration with North Down Borough Council, DRD Roads Service and the PSNI, much to the benefit of all involved as it minimised disruption. NI Water would also like to thank all road users and local residents for their patience, understanding and cooperation throughout the project.
"The completion of this project will improve the reliability of the water supply in the area, and also improve drinking water quality."
NI Water's customer relations team can be contacted via Waterline on 08457 440088. Customers with any questions on the remaining aspects of the scheme should quote "A2/ North Down Bangor Watermains Rehabilitation Programme."