NI Water Completes Essential New Storm Sewer for Windsor Park & Olympia Leisure Centre Two Weeks Ahead of Schedule
23 May 2017 16:11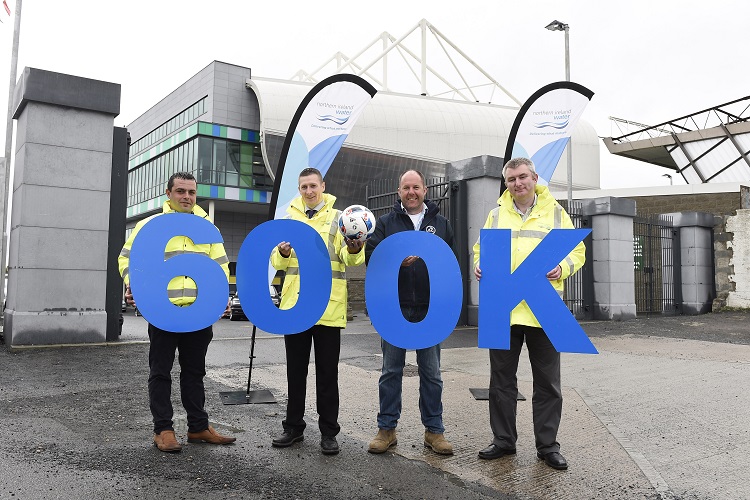 NI Water is pleased to announce that we have completed an essential project to provide a new storm sewer for the newly developed Windsor Park Stadium and Olympia Leisure Centre two weeks ahead of schedule. The programme of work will also improve the sewerage infrastructure in the area, increasing the capacity of the existing combined sewers, particularly during periods of heavy rainfall.
Approximately £600,000 was invested in this project, which was necessary to facilitate the redevelopment of the National stadium and new leisure centre. While benefiting the wider NI public, the project will also bring benefits to the general area, such as reducing the risk of 'out of sewer' flooding and environmental pollution and accommodating future development in the area.
Grahame Millar, NI Water Project Sponsor said:
"We appreciate that this was a disruptive time in the area and NI Water would like to sincerely thank the local residents and businesses for their patience and co-operation throughout this challenging project. The overall programme of work will improve the sewerage infrastructure in the area whilst facilitating these two major developments for the area and the wider NI public.
"NI Water and our project team from AG Wilson and Atkins worked well with the local community throughout construction. The issue of the monthly newsletter and the regular 'drop-in' sessions ensured that everyone was kept updated and any problems were quickly addressed."
Ends
Caption:
(L-R) Sean O'Connor Atkins, Robert McLean NI Water, Richard Chambers – AG Wilson and Roy Mooney of NI Water pictured marking the completion of this essential new storm sewer for Windsor Park & Olympia Leisure Centre. The programme of work will also improve the sewerage infrastructure in the area, increasing the capacity of the existing combined sewers, particularly during periods of heavy rainfall. Picture: Michael Cooper
All media enquiries to NI Water Press Office on 028 9035 4710 or email
press.office@niwater.com