NI Water wins special achievement award at Esri International Conference in San Diego
26 July 2018 14:42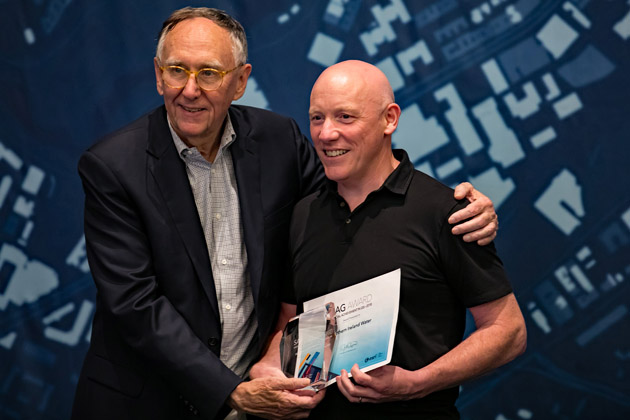 Northern Ireland Water has won a Special Achievement in GIS (SAG) Award at Esri's annual International User Conference in San Diego. NI Water was selected for the award from over 300,000 eligible candidates, for its innovative application of Esri's ArcGIS technology and for fully embracing the platform as a critical element of their day-to-day operations.
Held in the San Diego Convention Centre, Esri's International User Conference is the world's largest GIS conference with over 18,000 attendees interested in unlocking the full potential of data through geography. The SAG Awards recognise outstanding applications of Esri's ArcGIS technology with companies highlighted for their exemplary work in their field. Jack Dangermond, Co-Founder and President of Esri Inc, chose the winning entry from those shortlisted and presented Sean O'Boyle, Asset Information Development Manager, with the award at the event.
Speaking at the conference, Jack Dangermond said, "I'm delighted to present Northern Ireland Water with this prestigious award, in recognition of its impactful use of geographic information to improve service delivery for its staff and customers. This year's winners have all, in their own way, used GIS technology in innovative ways to reveal hidden insights about the critical geography around them. The work our awardees are doing enables Esri to demonstrate how implementing location intelligence can help improve the ways that organisations, from national governments to small businesses, operate."
Founded in 2007, Northern Ireland Water provides water and sewerage services for 1.8 million people in Northern Ireland. Over the years, the company evolved to maintain 42,300 km of water mains and sewers, but aspirations for continued business improvement were constrained by its two, separate, existing geographic information system (GIS) applications. NI Water worked with Esri Ireland to implement its single ArcGIS enterprise system, with the project being completed in less than a year; both on budget and on time.
NI Water chose Esri's ArcGIS because the solution's capabilities both met the company's projected requirements, but also offered a suite of additional tools to create new opportunities and possibilities for its customers and staff. ArcGIS is now used daily by hundreds of users and is available to 1035 employees in total. Users access a set of maps, services, apps and automated processes that have been specifically developed to meet the needs of NI Water.
The integrated solution gives all employees instant access to accurate location information, which they can use to help them deliver a more responsive customer service. Issues reported by customers are streamed in real-time to allow incident managers to quickly resolve issues. The mobile functionality of ArcGIS allows field-based teams to upload asset information direct to the Corporate Asset Register through the easy-to-use mobile app.
In comparison to the previous GIS systems, the solution has significantly improved business efficiency by removing manual, paper-based processes and eliminating the unnecessary duplication of data. In addition, streamlined project life-cycles and enhanced ability to report hazards and safety risks for personnel working in the field, make life much easier for NI Water's staff.
Sean O'Boyle said: "It is a tremendous honour to receive this award in recognition of the hard work every member of the NI Water team has put into successfully adopting Esri's innovative ArcGIS solution. Esri Ireland were terrific in passing on their knowledge to the team, ensuring that when the system went live, we were fully capable of delivering an even better service to our customers via our in-house team of GIS Analysts.
"It was fantastic to be invited to San Diego and to witness the creativity and excellence on show by companies from around the world using GIS to revolutionise their industries. For NI Water, ArcGIS gives us all of the features and capabilities that we were looking for, but it also takes us to another place of opportunity. As an organisation, NI Water is constantly striving to enhance the effectiveness and value of its data and systems, and the ArcGIS Platform is the ideal approach to help us to deliver on our 2015-2021 Strategy and to achieve our ambitious objectives."
Photo Caption: Sean O'Boyle ( NI Water Asset Information Development Manager) being presented with the award by Esri Inc President, Jack Dangermond.
All media enquiries to NI Water press office on press.office@niwater.com or ring 02890 357695.