£7 million investment in Ballycastle Wastewater Treatment Works Complete!
28 September 2018 11:54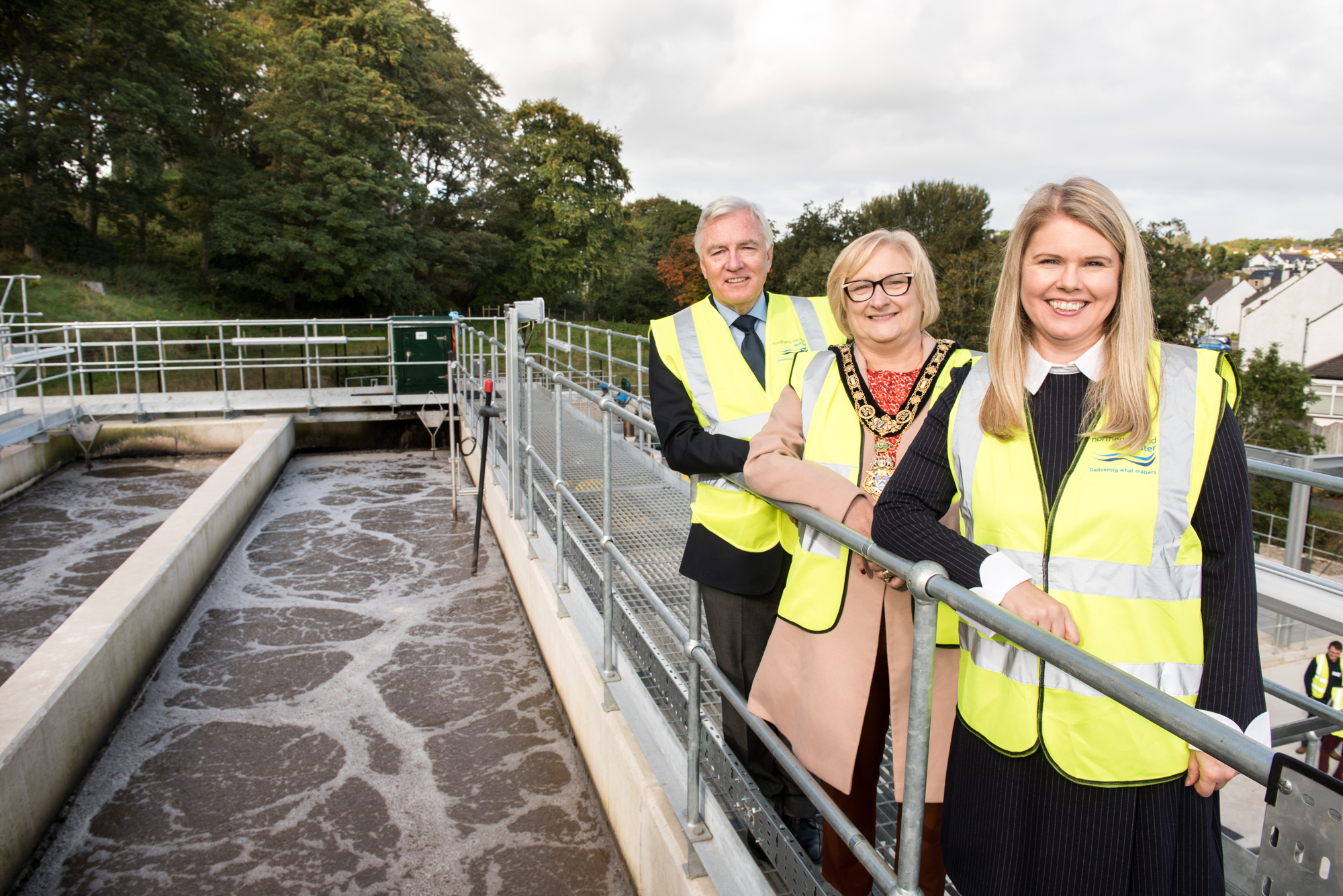 A new state-of-the-art £7million Wastewater Treatment Works at Ballycastle has been officially opened today.
The project involved the construction of a new treatment works on the existing expanded site, which will now meet the needs of the growing local population and economy. Ballycastle is growing in terms of its population, tourism industry and infrastructure and the new plant is essential to accommodate this development, as well as improving the local river water quality and bathing water standards.
Sara Venning CEO NI Water said:
"NI Water is delighted to announce the completion of the new £7 Million Wastewater Treatment Works here at Ballycastle. This new Works provides a major piece in the infrastructural jigsaw that is so essential to allow our communities to develop, grow and thrive.
"Every aspect of life in Northern Ireland relies on the water and wastewater services we provide, and this plant is an excellent example of what can be achieved with adequate funding in place. This is a state of the art plant, which will serve the local community for many years to come.
"We in NI Water are immensely proud of what we have achieved here, but are equally frustrated that ongoing financial restraints are preventing us from providing the same levels of infrastructure in many other areas throughout the province.
"Tourism is of course one of the main elements of the local economy here – from the world famous Auld Lammas Fair right up to modern times with the internationally renowned Game of Thrones series. Although we have tried to ensure this new works is as unobtrusive as possible, we should not underestimate its importance to the continued prosperity of this beautiful part of Northern Ireland.
"Continued investment in the water and wastewater services throughout Northern Ireland is essential to improve the infrastructure and to help us to ensure the protection of public health and the environment; support the growing economy and enable us to meet increasingly challenging European standards."
Recognising the importance and sensitivity of the area, the construction team successfully overcame many obstacles along the way, as the new coastal Wastewater Treatment Works was built on an extremely confined site, and careful consideration needed to be made to the sensitive ecology of the surrounding environment when planning the works. The new plant, which includes additional stormwater storage to help protect water quality will treat wastewater to the required standards until 2035.
Welcoming the project's completion, the Mayor of Causeway Coast and Glens - Councillor Brenda Chivers added:
"The council are delighted that this plant has been completed, and this will bring benefits to the local area such as improving local bathing water quality and accommodating future development in the area. This significant investment will undoubtedly help us to boost tourism and accommodate the growing number of visitors to the are
"Overall, the completion of the scheme will bring significant benefits to the growing local economy in this busy tourist town, as well as key environmental improvements."
ENDS
For further information, please contact NI Water's Press Office on 02890 354710 or email press.office@niwater.com