Year of Engineering Envoy Stephen Metcalfe MP Visits Clandeboye Rainwater Garden in Bangor, Northern Ireland
26 October 2018 10:54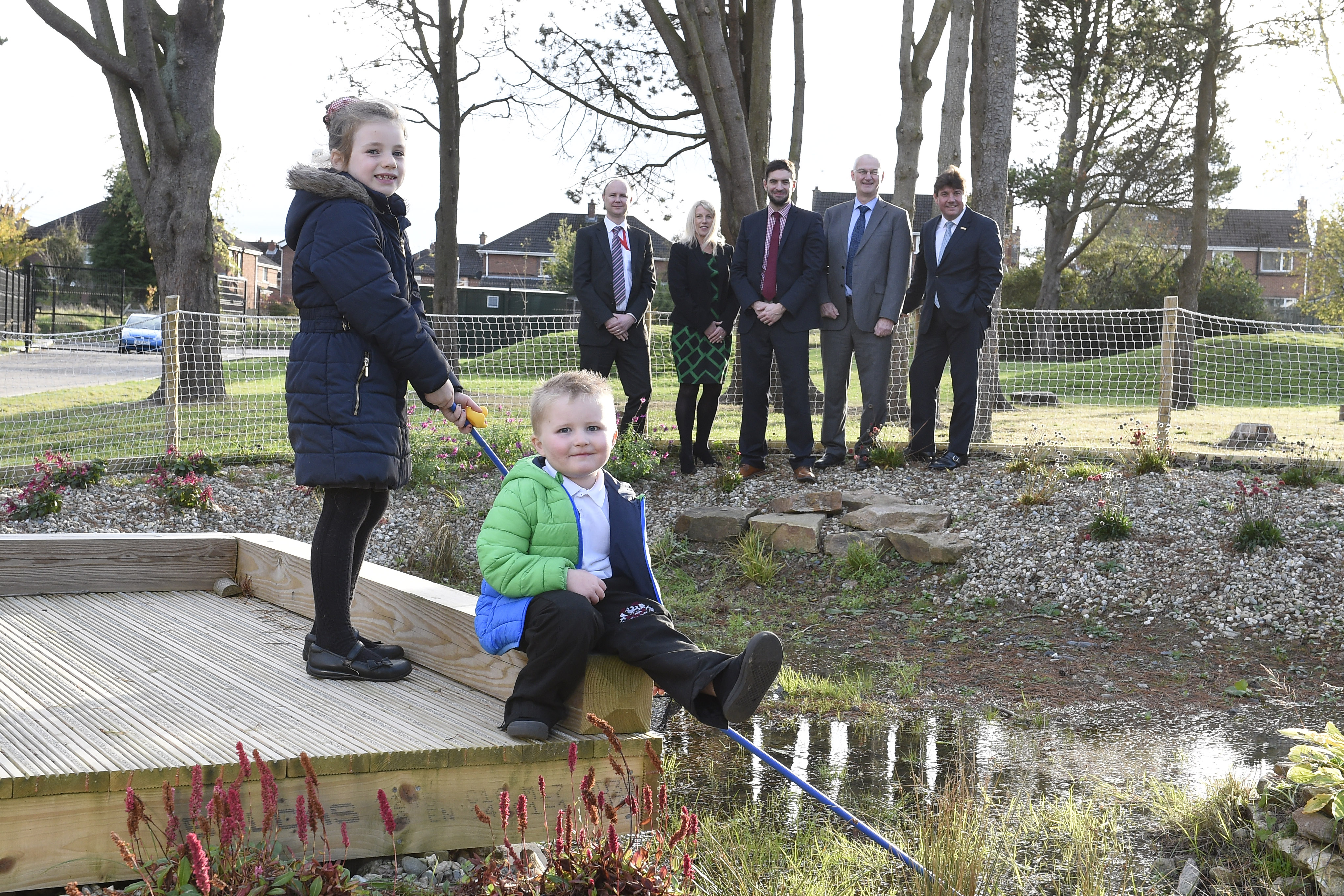 As part of his two-day tour of Northern Ireland, Stephen Metcalfe MP met with representatives from NI Water, the Department for Infrastructure and AECOM Engineers and apprentices at the Rainwater Garden at Clandeboye Primary School.
The first of its kind in Northern Ireland, the garden consists of ponds, cascades and bog gardens that provide natural storage for rainwater while creating a new outdoor learning environment for pupils.
As Government Envoy for the Year of Engineering, Mr Metcalfe also met with children and staff from Clandeboye Primary School.
Paul Harper NI Water Director of Asset Delivery said:
"We are delighted to welcome Year of Engineering Envoy Stephen Metcalfe MP to the Rainwater Garden today. £70,000 was invested in the garden, which is an innovative flagship project for NI Water and the Department for Infrastructure, working closely with the Education Authority and Department of Education. The garden demonstrates how sustainable design can reduce the risk of flooding, whilst also enhancing the environment and providing a valuable educational resource.
"This is a great example of how we can encourage the engineers of the future to think about sustainable drainage solutions and how we can reduce flood risk for our customers in an innovative way."
The garden collects and stores storm water before slowly releasing it, reducing local flood risk in the Clandeboye area. Water run-off from the school car park and playground area is collected in an underground storage tank disguised as a turtle. When the water within the storage tank builds up to a certain level, a valve opens and allows the water to run down a channel, which is used by the school children as a 'duck run' play facility.
The rainwater then travels into two split-level ponds, which provides further storage and reduces the rate at which the storm water reaches the local watercourse – Clandeboye Stream. Material excavated from the ponds was also re-used to create play mounds and a slide, while tree stumps were transformed into stepping stones and seats.
Samuel Donaldson, Principal Engineer, AECOM, said: "Clandeboye Rainwater Garden is a great example of how natural flood management can not only increase flood resilience but also deliver multiple other benefits to communities. Drawing inspiration from the natural environment, we were able to create a truly sustainable drainage solution that we believe will inspire other similar projects across the country."
HM Government Envoy for the Year of Engineering, Stephen Metcalfe MP, said:
"Engineering careers are an opportunity to make a real difference – from tackling global challenges, to designing innovations that improve local communities. The Year of Engineering is a chance to bring this to life for young people throughout the UK, and the Clandeboye Rainwater Garden is a fantastic example of this.
"This collaboration between NI Water, the Department for Infrastructure and AECOM not only demonstrates the impact of creative engineering on the world around us, but also shows young people where their curiosity and imagination could take them. I'm delighted to see Government and Industry working together to achieve this aim and have no doubt that the garden will inspire many schoolchildren across the country."
Pictured are: (left-right) Gavin Hamilton, Department for Infrastructure, Julie Thomas Principal of Clandeboye Primary School, Sam McManus, AECOM, Paul Harper, NI Water Director of Asset Delivery, Stephen Metcalfe MP with pupils Hazel and Ryan from Clandeboye Primary School.
ENDS
For further information, please contact NI Water's Press Office on 028 90354 710 or email press.office@niwater.com.
A video of the Clandeboye Rainwater Garden is also available at: https://www.niwater.com/major-infrastructure-investments/ https://www.youtube.com/watch?v=CflIWuMSCEw