100-year Old Mourne Wall restored ahead of schedule!
07 December 2018 16:15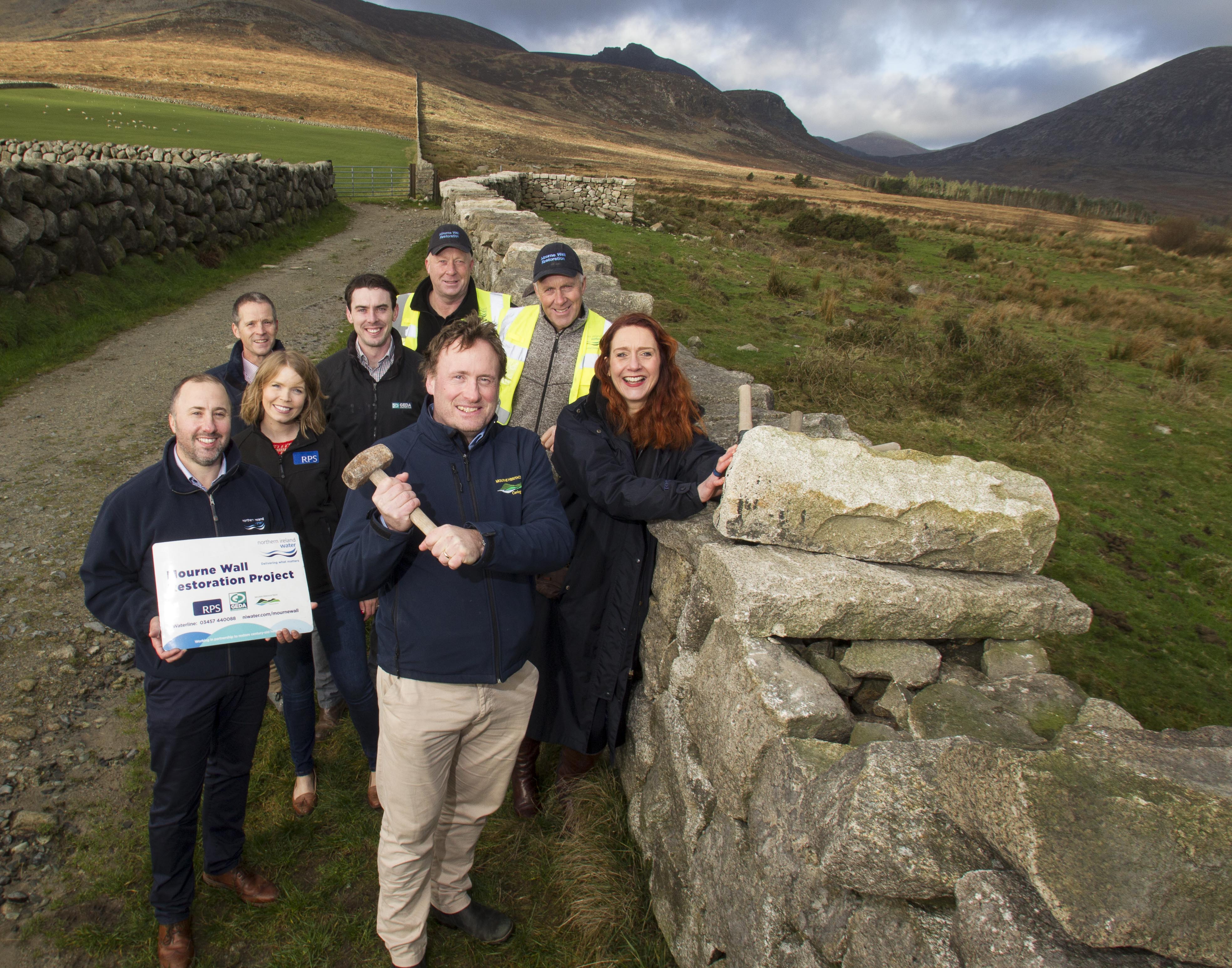 NI Water is delighted to announce the completion of the current schedule of repairs on the 100-year-old Mourne Wall.
This most recent phase of the Mourne Wall Restoration Project saw over 600 repairs undertaken along the 22mile-long granite structure – including a 27m collapse on Slieve Bernagh – as well as extensive path works. The project, which was originally estimated to take four years, was completed in less than two. Geda Construction was the contractor on this major project working in partnership with local stonemasons and RPS.
Hand built by the Belfast Water Commissioners between 1904 and 1922 to mark and protect the 9,000-acre water catchment which feeds the Silent Valley and Ben Crom Reservoirs, the wall has been a listed building since 1996 and today is in the ownership of NI Water.
Speaking about the recent restoration project Paul Harper, NI Water's Director of Asset Delivery said: "As part of NI Water's commitment to the 'Protocol for the Care of the Government Historic Estates', we undertook surveys along the entire stretch of the wall during 2016 and set in place funding for a programme of wall and path repairs to get underway on 2017.
"Less than two years on, I am delighted that this initial phase of work has been successfully completed. I would like to thank Mourne Heritage Trust, NIEA, National Trust and Trustees of Mourne for their guidance and assistance throughout the project and pay tribute to the strenuous efforts exerted by the contractors and wider project team in reaching this milestone so quickly.
"While this phase of restoration has been funded through NI Water's current capital works programme, we are aware that the wall may suffer further deterioration in the future. NI Water is committed to undertaking subsequent surveys and, subject to funding, carrying out repairs during the next 6-year capital works programme which commences in April 2021."
Working through all types of weather, the team hiked up to 6km a day to carry out the repairs. Fortunately, for the bulk of the restoration work, the stone was lying adjacent to the wall. Missing capping stones – weighing up to 120kg each - were sourced from local quarries and donated by the National Trust, transported to site by helicopter and rolled into placed using age-old methods.
In addition to the wall repairs, an extensive length of path works were undertaken in conjunction with Mourne Heritage Trust (MHT) to future-proof the restoration work and protect the integrity of the wall.
Martin Carey, Chief Executive of MHT said: "The Trust's accumulated knowledge of upland path works enabled us to work with NI Water to design a repair programme that we're confident will make sections of the Mourne Wall corridor on Slieve Donard robust into the future. Accordingly, as well as preserving the integrity of the wall's foundations, the path works will protect a wide corridor of European designated heathland that was undergoing loss due to ever-widening erosion scars as visitors tried to find a 'walkable' route. With almost 90,000 journeys recorded on our pedestrian visitor counter on Slieve Donard – and this figure showing an upward trend year on year – it is vital that such works are undertaken to sustain the access to Northern Ireland's highest peak that is valued by so many."
Chris Hazzard MP said:
"Since its commencement in April 2017, the Mourne Wall Restoration Project has caught the attention of the wider public with the project featuring in the recent BBC 'Chronicles of Mourne' series.
"I welcome the completion of this project and congratulate all the team involved."
Cllr Mark Murnin, Chairman of Newry, Mourne & Down Council commented:
"The Mournes are popular with tourists, hill walkers, expedition groups, day trippers and many more. The iconic granite wall not only provides shelter to walkers, but it is also a recognised navigation route - often referred to as "the handrail".
"The council is delighted that this much-loved historic asset has been carefully restored and paths along Slieve Donard reinstated to provide environmental protection and facilitate walking tourism in this beautiful scenic area."
Ends
Media enquiries to the NI Water Press Office on 028 9035 7695 or via email to press.office@niwater.com
Photo caption:
Capping it off: Members of the project team put on the last capping stone to mark the completion of the Mourne Wall Restoration Project. Over 6000 capping stones were put back into place as part of the latest phase of work.
(L-R) Front row: NI Water's Project Manager Michael Donnelly, Alice Whittingdon, RPS; Martin Carey, CEO Mourne Heritage Trust and Heather McLachlan, Regional Director, National Trust.
Back row: Mark Wright, NIEA; Niall McGovern GEDA Construction and local stonemasons Andrew & Brian Rooney.