Organisations Urge Public to 'Wrap Up Their Homes' this Winter
10 December 2018 17:08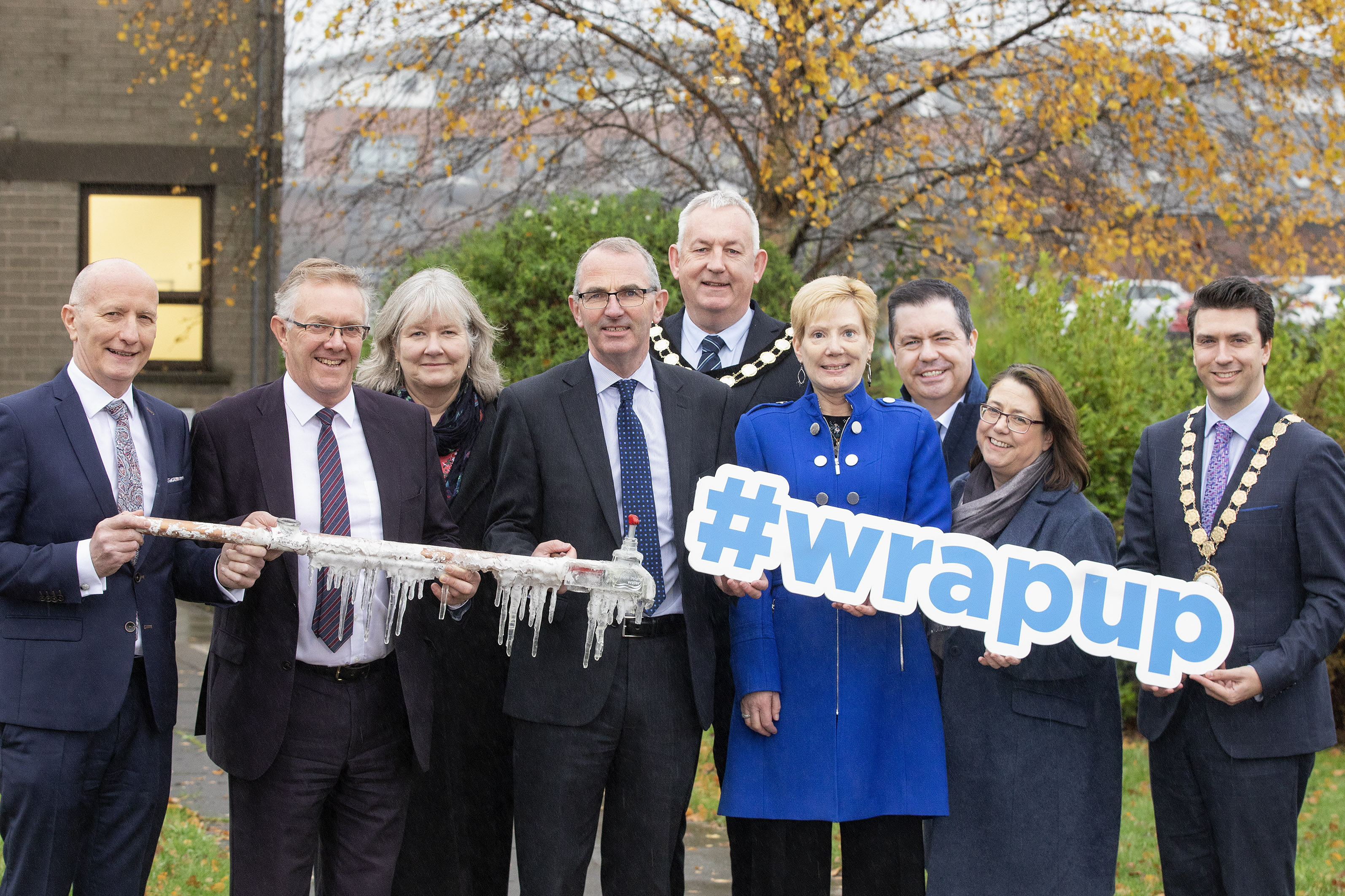 NI Water has joined forces with a number of organisations to remind the public that it's time to insulate their water pipes around the home.
Frozen pipes can burst and cause flooding, so it is vital when we are wrapping ourselves up that we take the time to make sure pipes in our homes and businesses are well wrapped and protected from the cold weather.
Sean McAleese, NI Water Director of Customer Service says, ''NI Water is delighted to once again run our winter campaign in partnership with a whole range of organisations, including our shareholder DFI, the Consumer Council, Ulster Farmers' Union, Retail NI, Hospitality Ulster and our Councils. The combined resources of all of these partners, and many others, enables us to spread our message to all sections of the community."
Linda McHugh, Director of Water and Drainage Policy at the Department for Infrastructure comments, "The winter period can be a big enough challenge without losing your water supply because of frozen pipes or dealing with a flood after your pipes have burst. Thinking about insulating pipes after such an event is simply too late, and in this case, prevention is much better than cure".
NI Water would encourage consumers to ensure their water pipes are insulated and check everyone in the house knows where the stop valve is located. The devastation caused by burst pipes cannot be underestimated. Not only can the water cause structural damage to a property, but also lasting damage to personal items.
Chairperson of Lisburn & Castlereagh City Council's Environmental Services Committee, Councillor Janet Gray MBE says, "The Council would regularly promote the importance of insulating water pipes as periods of cold weather approach. As the local authority in Lisburn & Castlereagh we have a responsibility to ensure our residents know how to prepare for adverse weather and deal with issues that may arise in their home during such weather. It is important to take the time to check your water pipes, remind yourself where your stop valve is located and how to turn it off if needed.
"We would advise that in freezing weather you keep your home as warm as possible even when you are out, ensure taps are turned off and leave the trap door to the roof space open to let warm air flow in during extreme weather conditions when there is the chance that un-lagged water tanks and pipes could freeze. These simple measures could prevent damage to your home and you having to phone a plumber."
NI Water would also encourage those customers who have additional needs to contact them and enquire about their customer care register. If there is an interruption to your supply from the main water distribution network, NI Water can ensure you are dealt with as a priority.
"Insulating your pipework is an essential action to protect your water supply and that of your neighbours.
"Everyone has a role to play in preparing for freezing temperatures and ensuring that water continues to flow freely through our pipes all winter long," says Mr McAleese.
Colin Neill, Chief Executive Hospitality Ulster says, "Christmas is a busy time for the Hospitality Industry, but this can mean many businesses forget to check they are prepared for the cold winter weather. So this is a timely reminder to take a few minutes to get winter ready."
There are lots of simple things that homes and businesses can do to prepare for a cold winter, and there's no time like the present to get started:
Wrap up pipes and water tanks with lagging – high street DIY stores have everything you need.
Fix dripping taps – even a small trickle can result in a frozen pipe.
Find your property's stop tap and make sure you can turn it off – most are under the kitchen sink.
Leave the heating on low if you go away for a winter break.
Check your central heating boiler has been serviced – it should be serviced annually.
Keep the name of a plumber handy – type in your postcode at www.watersafe.org.uk to find your nearest accredited plumbing business.
Click here to watch the new NI Water social media video featuring Flo and for Further Information & Advice
Photo Caption L-R: Colin Neill Chief Executive Hospitality Ulster, Ivor Ferguson President Ulster Farmers' Union, Linda McHugh Director of Water and Drainage Policy Department for Infrastructure, Sean McAleese NI Water Director of Customer Service, Sean McPeake Chair Mid-Ulster Council, Janet Gray Chairperson of Lisburn & Castlereagh City Council's Environmental Services Committee, Glynn Roberts Chief Executive Retail NI, Sinead Dynan Director of Regulated Industries Consumer Council NI, Richard Smart Mayor Ards and North Down Council.
ENDS
Media enquiries to the NI Water Press Office on 028 9035 7695 or via email to press.office@niwater.com