St Catherine's College students get an introduction to career opportunities available at NI Water
05 March 2019 12:08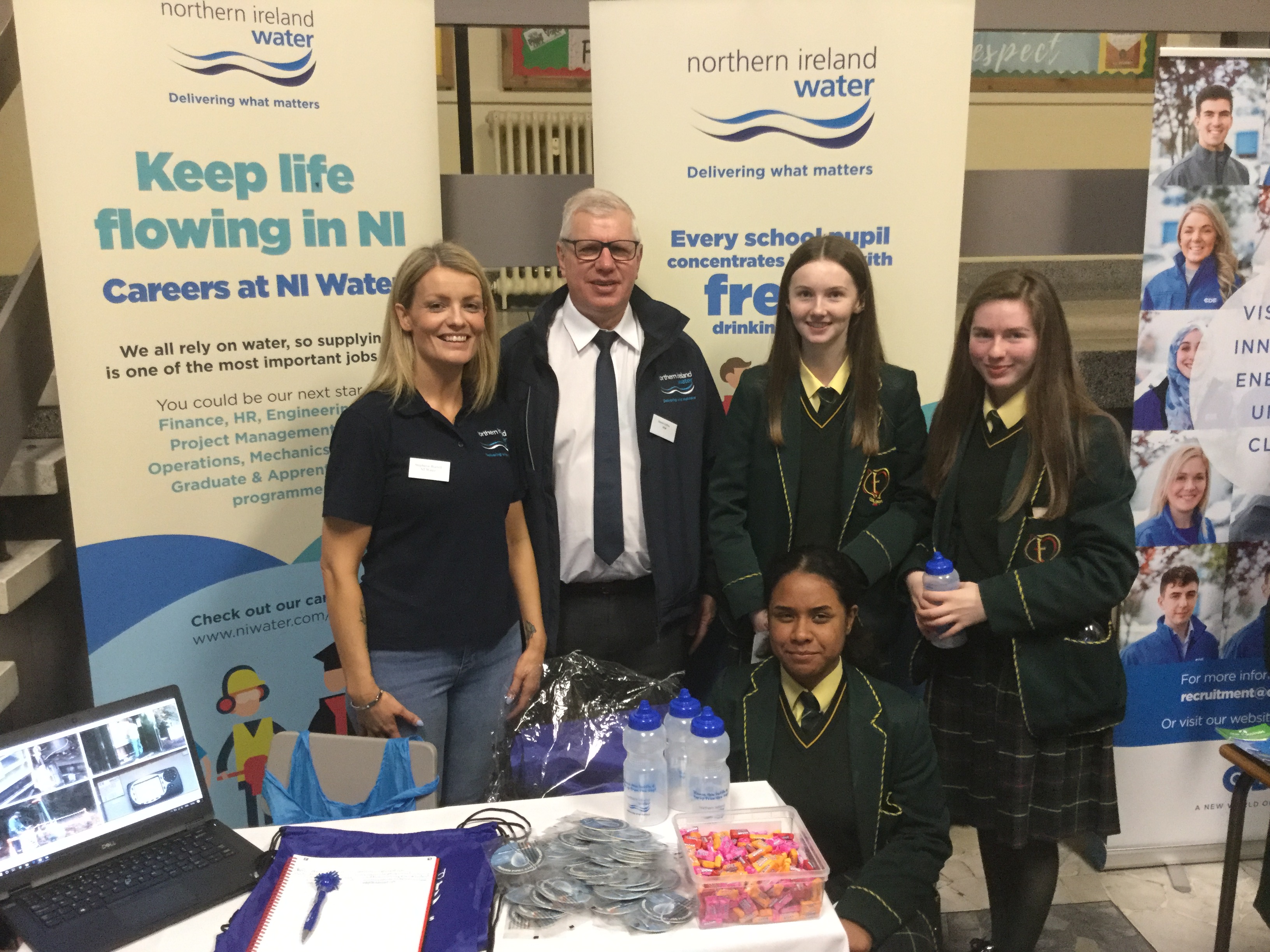 Northern Ireland Water staff met students at St Catherine's College, Armagh, to talk to them about the range of employment opportunities available at NI Water.
Recruitment Specialist, Stephanie Burrell, Area Manager, Leslie Young, Field Manager, Dessie Collins and Mechanical and Electrical engineering operator, James Irwin, took time out to help students make the link between the classroom and the world of industry.
NI Water Recruitment Specialist, Stephanie Burrell says, "NI Water was delighted to be invited to the school's Careers Pathway event, held for fifth form students who are about to make their A Level choices. One hundred and fifty pupils attended and were given the chance to quiz NI Water staff about the wide range of careers available in engineering and customer service jobs to opportunities in Information Communication Technology (ICT) and Human Resources (HR)."
Damian Mullan, Careers Information Education Advice and Guidance Coordinator (CIEAG) within the school says, "I was delighted to welcome NI Water to our yearly pathways event and provide them with the opportunity to give pupils current labour market information to allow them to make informed future career choices.The feedback was very positive from pupils who spoke with NI Water staff attending the event."
NI Water has a wide range of careers opportunities within a number of business areas such as in the areas of Mechanical and Electrical engineering, Water, Waste Water and ICT to name but a few. NI Water are currently developing apprenticeship schemes in these areas.
ENDS//
Notes to Editors
Photo caption: Pictured at St Catherine's College Careers Pathways event are L-R: NI Water staff Stephanie Burrell and Dessie Collins with Aoife, Amy and Leticia.
Media enquiries to the NI Water Press Office on 028 9035 7695 or via email to press.office@niwater.com