Running on Water
15 April 2019 11:19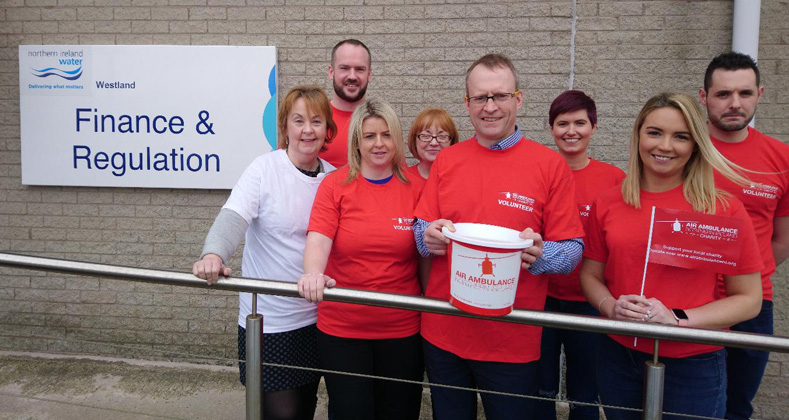 For the 4th year in a row, NI Water staff have put their best foot forward and entered two teams into the Belfast Marathon relay, taking place on Sunday 5th May.
NI Water are supporting the teams' efforts by providing them with water bottles to ensure they stayed hydrated along their journey.
Their chosen charity this year is Air Ambulance Northern Ireland (AANI).
Peter McNamee, one of the relay runners commented, "As a company, we are very proud to have volunteers running to represent their chosen charity at this very important fundraising event held in the City of Belfast over the May Day Bank Holiday week-end. AANI is a relatively new charity, and needs to raise £2m every year in order to bring urgent medical assistance to anywhere in Northern Ireland, seven days a week for 12 hours per day. We ask all our colleagues, families and friends to support our fundraising for Air Ambulance and welcome all donations to support this very worthy cause."
If you would like to sponsor the team, simply log on to their JustGiving page:
https://www.justgiving.com/fundraising/peter-mcnamee7
Water forms a major part of our blood (approximately 82%), even slight dehydration can cause feelings of tiredness and reduced alertness. NI Water aims to raise awareness of the value of drinking high quality tap water and using a refillable water bottle each time. Staying hydrated and reducing plastic waste is a win-win for everyone.
ENDS
Media queries to NI Water Press Office on 028 90 354710 or email press.office@niwater.com
Caption:
Finance and Regulation team – (L-R) Carol Ferry (Dromore), Dean Campbell, Catriona Turley (Castlewellan), Deborah Cooke (Lurgan), Peter McNamee (East Belfast), Lisa Crossey, Gemma Rainey (Newtownabbey) and Michael Fee (South Belfast).