1.5 Million Metre Water Milestone Reached on NI Water Project!
12 June 2019 12:35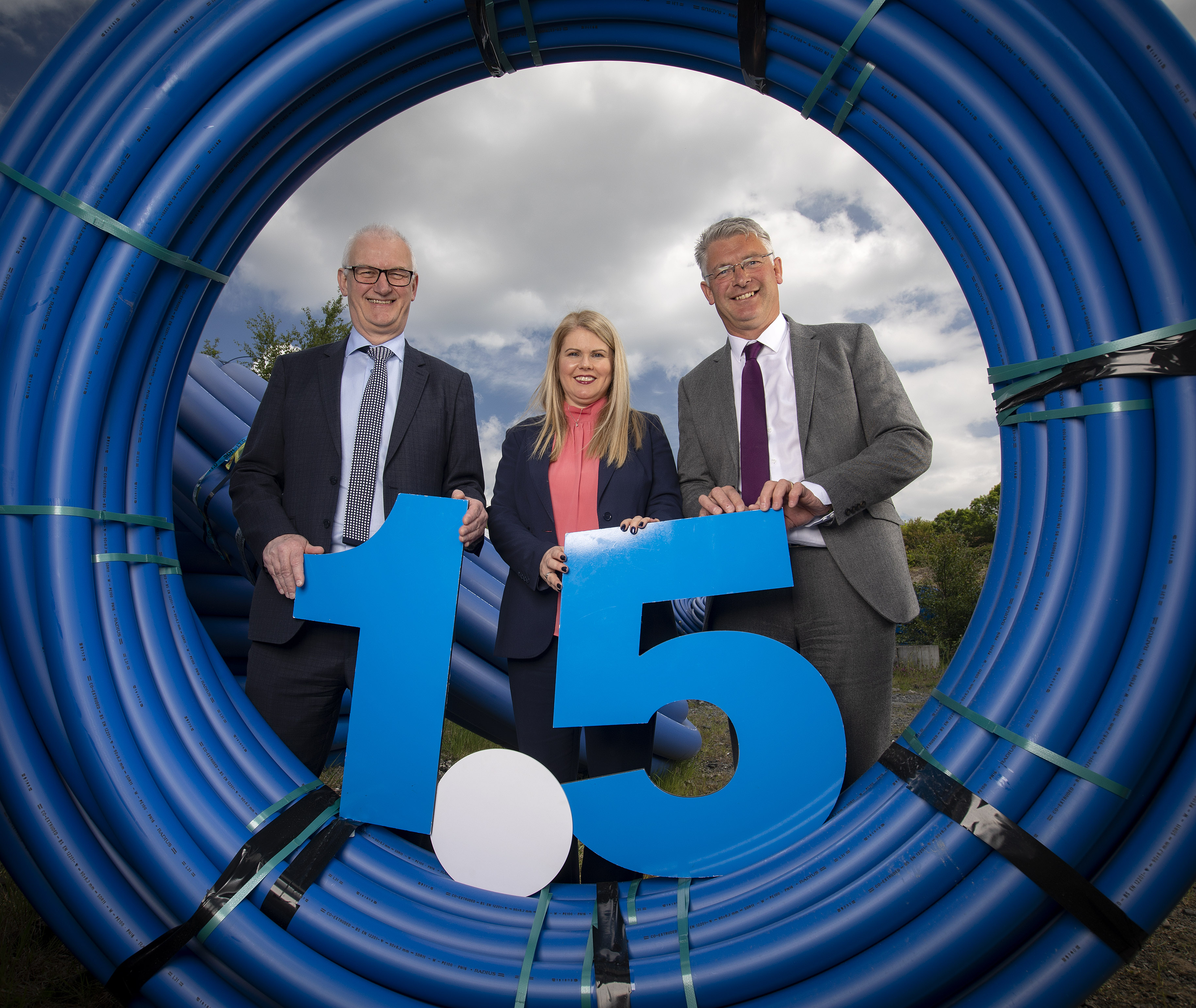 NI Water and Lagan Construction have reached a major milestone by installing 1.5 million metres of pipe on the ongoing £100 million Watermains Improvement Programme!
This major programme of work delivers what matters for our customers by replacing watermains, thereby dramatically improving the quality, reliability and security of the water supply, while also reducing leakage. The project will also assist in supporting a growing economy, one of many required to continue economic growth throughout Northern Ireland.
The Lagan Construction watermains team, based at NI Water's Headquarters in Westland House, North Belfast, have been working on the framework since 2005 and have installed enough pipe to stretch from Belfast to Frankfurt during this 14-year period!
Pipelaying has stretched throughout the province from Newry to Ballymena and covered the greater Belfast area with around 100 staff from Lagan Construction and 55 local sub-contractors involved at the height of the contract bringing a boost to the local economy.
Sara Venning, NI Water's Chief Executive, said:
"I congratulate the NI Water team and Lagan Construction on reaching this ambitious 1.5 million watermains milestone. It comes at an opportune time, allowing us to celebrate the work done to date, but also to reinvigorate us in our quest to continue to improve drinking water quality and secure the water supply for everyone in Northern Ireland.
"This year is an important one for NI Water as we prepare our next business plan for the 2021 to 2027 period, setting out the investment needed and the funding required for the water and wastewater networks. Our plan details around £2.5 billion of capital investment needed to continue providing our essential services enabling economic growth, protecting our natural environment and safeguarding the population's health.
Northern Ireland deserves a high quality, reliable water service and I can't stress enough the importance of this funding for Northern Ireland to continue to thrive."
Paddy Harney, Director, Lagan Construction added: "Our dedicated team are delighted to have reached this significant milestone on the Watermains Improvement Programme. Our team would like to take this opportunity to thank all of our stakeholders for their support and patience in delivering this vital infrastructure for the people of Northern Ireland".
The scale of the water mains project has required extensive work on local roads. However, where possible, the team used state of the art low-dig technology, which meant that many of the mains were installed without the need to open large trenches. NI Water and Lagan Construction would like to thank householders, businesses and road users right across Northern Ireland for their continued patience and support. Local communities will enjoy the benefits of this work for many years to come.
ENDS
All media enquiries to the press office on press.office@niwater.com
Photo captions: (L-R) Paul Harper, Sara Venning from NI Water with Lagan Construction's Nick Fletcher.