£3 million Camlough Dam Refurbishment project Scoops Construction Excellence Award!
29 October 2019 9:49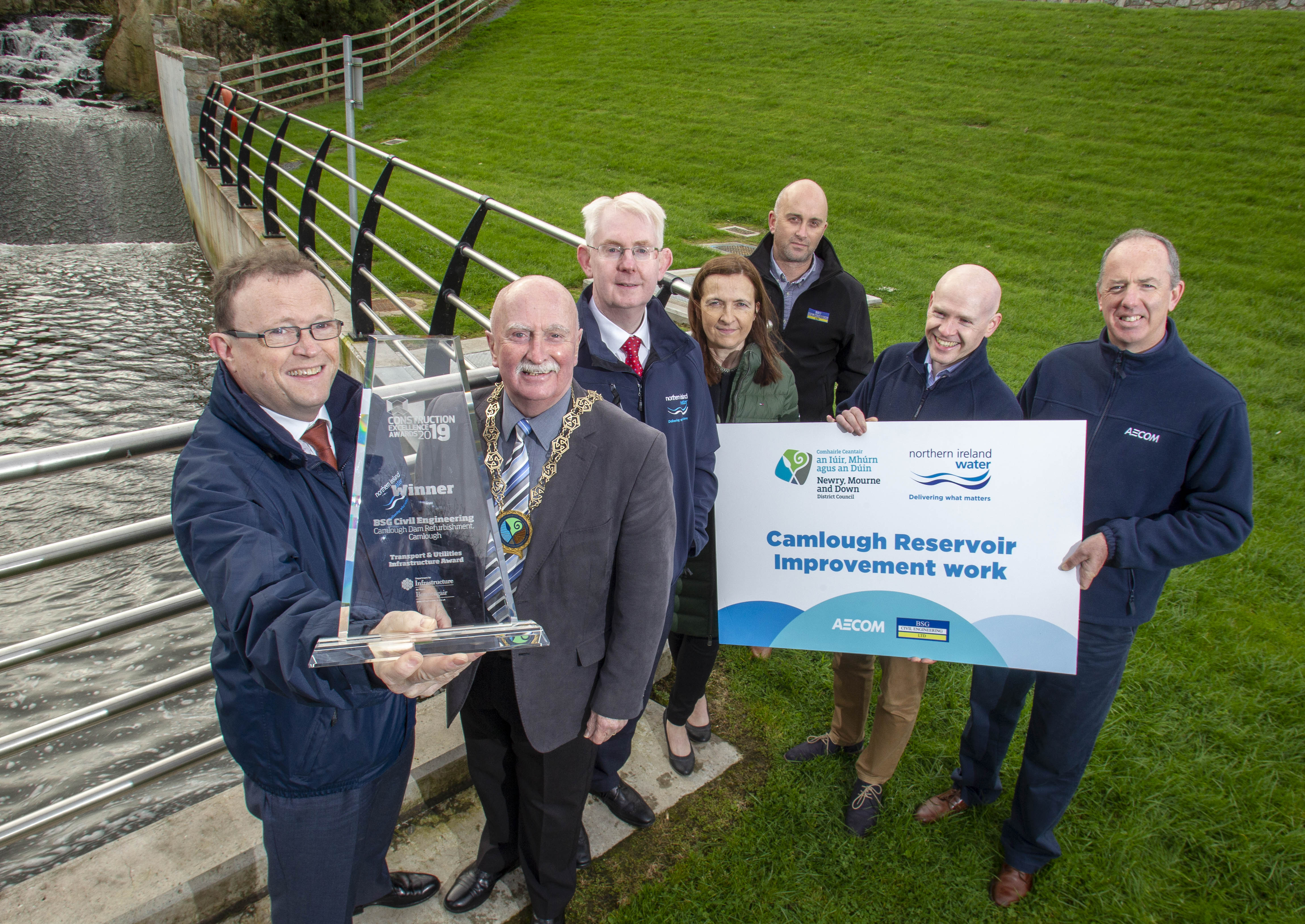 The NI Water project team who completed the Camlough Dam Refurbishment project have scooped a Construction Excellence award from the Construction Employers Federation (CEF). The awards provide a wonderful opportunity to showcase the best of the construction industry in Northern Ireland and to celebrate the industry's achievements.
The team beat off stiff competition from many utilities across the province to top the Transport & Utilities Infrastructure category. The team were also presented with a special judges nomination for "Excellence in Partnering', which is awarded to projects which demonstrate collaborative working and the best approach to partnering in the delivery of the scheme.
The £3 million Camlough project was completed in partnership with Newry, Mourne and Down Council to make essential improvements at Camlough lake. This project has greatly improved the reservoir to provide an enhanced recreational and tourism resource for the future. The scheme involved many improvements including strengthening the reservoir embankment to provide extra security in the event of heavy rainfall and the construction of a valve tower to control flows from the lake.
NI Water's Director of Finance and Regulation Ronan Larkin said:
"NI Water were delighted to successfully work in partnership with Newry, Mourne & Down District Council, BSG Civil Engineering and AECOM to complete this essential improvement work, which is so important for the local community.
"This prestigious award is testament to the hard work of the entire team and demonstrates an innovative approach to construction excellence. These essential improvements are vital to the local community and the lake is an important recreational resource for the future."
The Chairman of Newry, Mourne and Down District Council Councillor Charlie Casey added:
"The council are delighted that the Camlough Lake project has been presented with this prestigious award. The improvement work carried out at Camlough has been extremely beneficial for the local community in this area and transformed it into a first class facility for leisure, sport and tourism.
"The project has brought an increase in the numbers of athletes and triathletes from all over Ireland coming to the use the lake and the surrounding area for training throughout all seasons and this is also good news for our Crooked Lake triathlon, elevating the race to one of the most popular triathlons in Ireland."
Conor Ward, Contracts Manager from BSG Civil Engineering added:
"BSG Civil Engineering are proud to receive this major industry award for construction excellence and worked effectively with our project partners to improve Camlough Lake. The local community will undoubtedly benefit from the improvements for many years to come."