Spraying weeds wisely – Advice on protecting our rivers and lakes
29 April 2021 12:41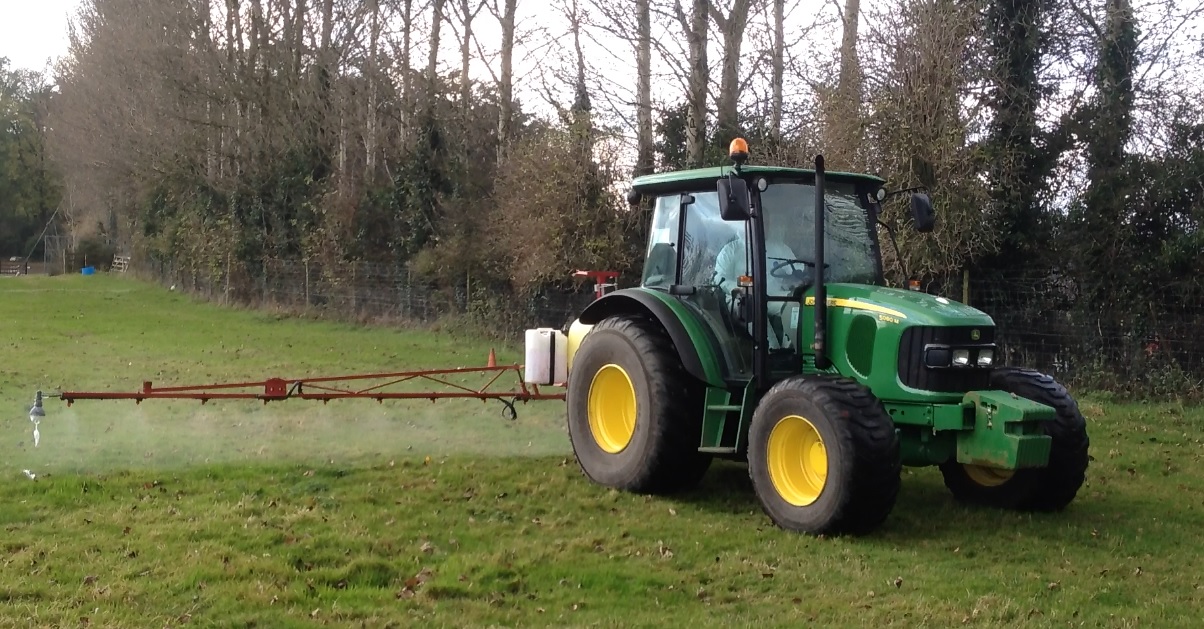 At this time of the year, many farmers will be spraying rushes or other weeds in grasslands, or domestic users will be treating weeds in their gardens. This is frequently done using products containing the broadleaf herbicide MCPA, which is currently one of the main challenges to protecting raw water quality in NI. It is very soluble in water and lingers in the surface water for a long time making it challenging and very costly for NI Water to remove at the water treatment stage.
Despite these challenges, NI Water works hard to remove substances like MCPA to provide safe and wholesome drinking water for our customers, and in order to comply with current Drinking Water Standards. However, it would be preferable that plant protection products don't get into our rivers and lakes in the first place.
Some of the ways this can happen is that after application, it is washed off the land following heavy rainfall, or by it accidently entering a drain at the filling or washing stage in the yard.
NI Water are proud to be members of The Water Catchment Partnership, a proactive group of key stakeholders who are working hard together to combat the issue of pollution in raw water. It is comprised of the Ulster Farmer's Union, DAERA, CAFRE, NI Water and the Voluntary Initiative. The work the group has carried out jointly, since 2013, has had some great results in driving down MCPA concentrations in our watercourses, but there is a lot more work to be done. Our data suggests that MCPA pollution occurs sporadically and not over such a sustained season, and commonly appears during the main application seasons of April-October.
NI Water would like to appeal to all users of plant protection products (PPPs) who are treating rushes or weeds at this time, either domestic, amenity or agricultural, to take extra care to avoid drips and spills when preparing, applying and disposing of chemicals, and when cleaning down equipment in the yard. Top tips to follow would be;
Only mix up what you need according to the instructions on the label
Do not pour washings directly down the drain
Don't apply when heavy rain is forecast
We all must play our part in continuing to apply PPPs under best-practice guidelines if we wish to secure their continued availability and use.
One of the projects NI Water has employed to help drive down MCPA levels across NI has been the establishment of our Rush Solution without Pollution trials, firstly in Co. Armagh, then in Co. Tyrone and Co. Antrim. These innovative trials have so far provided over 100 farmers with a free Weed-wiping service to control the rushes growing in their fields, as an alternative to them using MCPA in a boom sprayer.
While the Armagh trial is now completed and has resulted in fewer raw water MCPA detections in the area, NI Water would invite any farmers in the Glenhordial area near Omagh and the Finvoy area near Ballymoney who are not already signed up for the trials to get in touch with our catchment team at catchment@niwater.com if they are interested in learning whether they are eligible for the service.
Similarly the Source-to-Tap project has been offering 100% funding for farmers to avail of weed wiping of rushes in the Derg catchment, upstream of the Water Treatment Works through a pilot Land Incentive Scheme. This project is funded by the European Union's INTERREG VA Programme, with match funding from the Department of Agriculture, Environment and Rural Affairs (DAERA) in Northern Ireland and the Department of Housing, Local Government and Heritage (DHLGH) in Ireland and managed by the Special EU Programmes Body (SEUPB).
It is also important to remember that MCPA loss from the land represents a financial loss to the farm business in wasted product and poses a risk to the water environment and the plants and animals that depend on it. We all need to work together to protect our precious drinking water resources.
ENDS//
Media enquiries to the NI Water Press Office via email to press.office@niwater.com