Infrastructure Minister and St Mary's on the Hill Primary School visit NI Water
21 March 2022 17:30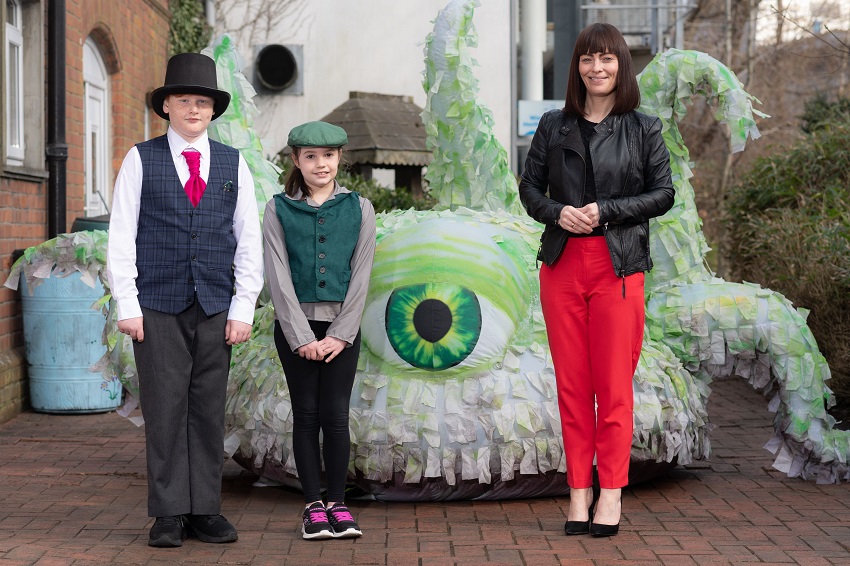 Northern Ireland Water (NI Water) welcomed Infrastructure Minister Nichola Mallon and pupils from St Marys on the Hill Primary School, Newtownabbey to its Wastewater Heritage Centre at Duncrue Street, Belfast for an educational visit to experience the sights and smells of Belfast's sewage system past and present.
Located in the industrial heartland of Belfast, the Heritage Centre allows children to compare the nearby Duncrue Wastewater Treatment Works to the system used in the Victorian era.
Infrastructure Minister Nichola Mallon said: "The interactive displays and educational talks here at NI Water's Heritage Centre really brings history to life for the children. Water is one of our most precious resources and how we treated our water and wastewater in the past and looking at the systems we have now can really help us change our actions for the future.
"NI Water deals with around 15,000 blockages in the sewers each year, the majority of which could have been prevented. This leads to pollution and impacts on our natural environment. Visits like this really inspire our future generations and the importance of acting now to protect the world around us."
To reinforce NI Water's 'Bag It and Bin It' message, the pupils took part in a practical activity to highlight the importance of looking after our sewer network and to learn more about what shouldn't be flushed down the toilet.
NI Water's Outreach and Learning Officer, Anna Killen said,
"NI Water places great importance on educating young people in the vital role water plays in our lives. Bringing the children to the Heritage Centre allows them to get a better understanding of the steps involved in the sewage cleaning process and what happens when they flush the toilet.
"The Heritage Centre is a wonderful facility combining history, science and environmental awareness and we're delighted with the positive feedback from schools who have participated to date."
The programme is aimed at Key Stage 2 and designed to complement a key element of Northern Ireland Primary Curriculum – the 'World Around Us' which includes 'Change Over Time' and 'Place'. For further information on NI Water's education programme, log onto www.niwater.com/education.
Ends
For further information, please contact NI Water's press office press.office@niwater.com
Photo Caption 1: Infrastructure Minister Nichola Mallon with Joseph, Chloe and NI Water's Wet Wipe Monster. on a visit to the Wastewater Heritage Centre, Belfast.
Notes to Editors
More information about H2O and the Wonderful World of Water can be found on www.niwater.com/education
NI Water's education programme is delivered by experienced Education Officers and is tailored to the Northern Ireland Curriculum.
NI Water also has a Waterbus which is a regular feature of the educational programme, a mobile classroom on a true scale double-decker bus.
The Waterbus is a long-term investment by NI Water in educational development for the local community.
The visit took place on Monday 21st March, 2022.