Local Pupils 'Walk for Water' at Silent Valley this World Water Day!
23 March 2022 14:58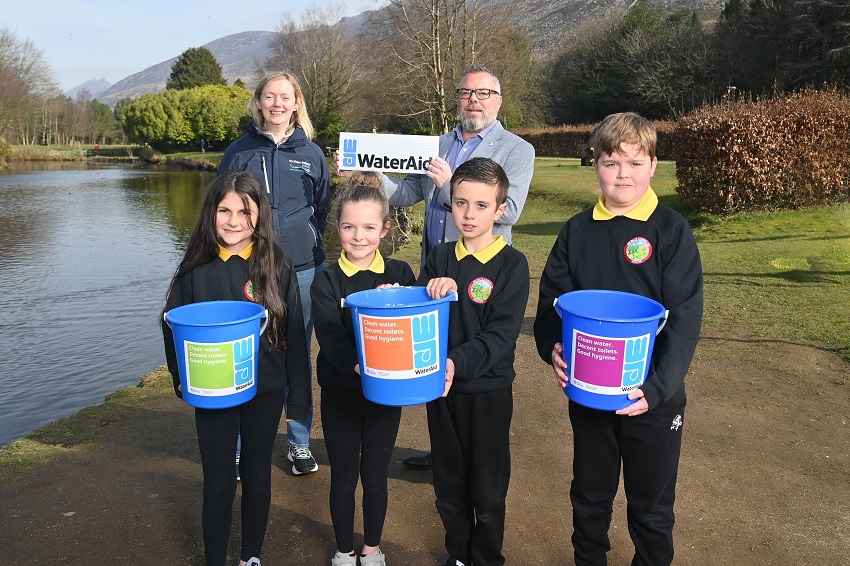 Most of us take water for granted, but we would be lost without it – nothing to drink, nothing to wash in, nothing to flush the toilet with! Yet for all too many people in the world today, that existence is very real – 1 in 10 people around the world, some 771 million, are still living without clean water close to home and many countries simply do not have the means to provide required amounts of clean, safe water.
NI Water's education team has been on the road visiting schools in advance of World Water Day, helping to get this message across. Pupils across NI have heard how important it is to look after this vital resource and found out more about the work of WaterAid in helping to provide clean water, decent toilets and good hygiene to some of the poorest communities around the world.
Following on from the visits, around 160 local school children came along to Silent Valley on World Water Day (22 March) to mark this special day by completing a sponsored Walk to raise vital funds for WaterAid. Other schools opted to "Walk for Water" in their own school grounds, while still supporting WaterAid. Schools on site were Castledawson, Fairhill (Kinallen), Dromintee, Killean, and Castle Gardens (Newtownards) Primary Schools.
Anna Killen, NI Water's Outreach & Education Officer said: ''WaterAid has done some great work over the years in raising awareness of the lack of water in some of the world's poorest communities, and on World Water Day this year, we want to encourage people to raise awareness of the fact that many people don't have the safe, clean water we in Northern Ireland take for granted.
''NI Water is proud to support WaterAid's vision of a world where everyone has access to safe water, decent sanitation and good hygiene and we would like to thank the schools involved for raising vital funds that will help change lives in the world's poorest and vulnerable communities. We would also like to thank our sponsor Kier for sponsoring this event, as well as the RNLI and the Newcastle & Mourne CFR group (community first responders) for their fantastic talks and demonstrations with the pupils."
World Water Day is a day dedicated to reminding us all of the one simple thing we all take for granted; clean, safe water. The United Nations declared the 22nd March as World Water Day in 1993 and it has been celebrated around the world on this day ever since.
This year's theme is Groundwater, which will play a key role in accessing water around the world in the future, particularly in light of climate change. WaterAid often uses boreholes to access water deep underground. The organisation works with communities around the world, using technologies like boreholes, to help people access the invisible water that is underneath the earth's surface!
To find out more about the work of WaterAid, please visit www.wateraid.org
Ends.
All media queries to the NI Water Press Office on 028 9035 4757 or via email to press.office@niwater.com