Pipelaying work to get underway in Carrowdore as part of NI Water's Ards North Project
28 June 2022 10:00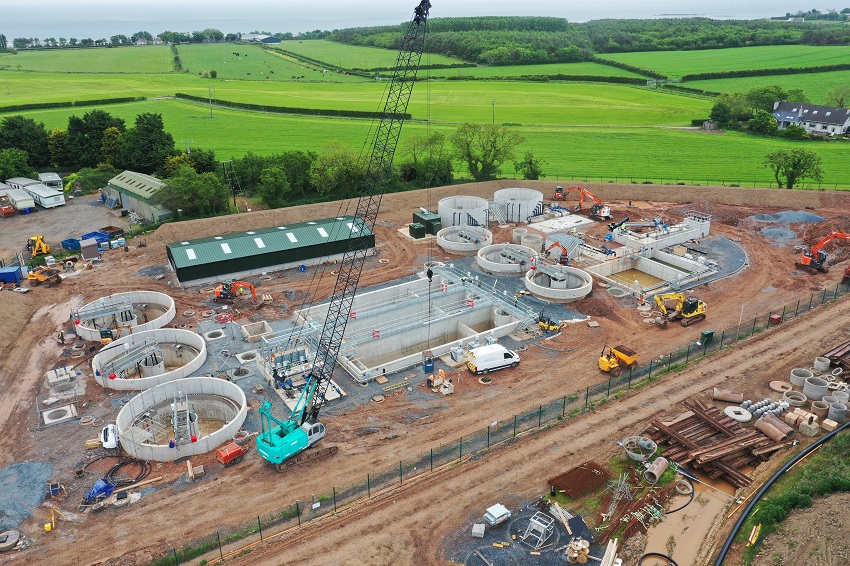 NI Water is due to commence pipelaying work in Carrowdore on Monday 4th July as part of its £18m Ards North Wastewater Improvement Project - a major programme of work which involves the rationalisation and upgrade of the wastewater collection, treatment and transfer systems serving the villages of Carrowdore, Ballywhiskin and Ballywalter.
The new pipeline will extend from the end of New Road, along Main Street to Abbey Road, where it will divert through agricultural lands - adjacent to Carrowdore Shooting Club – to connect into a new wastewater pumping station being constructed on the site of the old treatment works.
Infrastructure Minister John O'Dowd said: "I am pleased that the £18m Ards North Wastewater Improvement Project is progressing. Once fully complete in 2023, the new wastewater treatment infrastructure being delivered will support long-term economic growth in local development and tourism.
"This significant investment will also deliver environmental improvements, including cleaner beaches and bathing waters, which will benefit all those living, working or visiting this scenic part of the Ards Peninsula."
NI Water's Project Manager Damien McKeown added: "This is the last major section of pipeline that is due to be laid as part of the extensive £18m Ards North Wastewater Improvement Project and has been programmed to take place in the summer to avoid disruption to local schools.
"The pipeline will link the new wastewater pumping station at Carrowdore with the new state-of-the-art wastewater treatment works being constructed off the Greystone Road. The section of pipeline between this new treatment works and New Road was installed last year.
"To facilitate the installation of the new pipeline through Carrowdore in the safest possible manner, a lane closure will be in place around the works area.
"The pipelaying work will be undertaken in sections, with the road reinstated before a new section is opened up. Temporary traffic lights will be in operation to maintain traffic flow.
"Access will be maintained for businesses and residents during this work, but a small section of parking fronting on to Main Street (between Nos. 97-103 Main Street) will be temporarily affected while the pipelaying work passes this point. A letter drop has been undertaken and our contractor for the project, BSG Civil Engineering, will liaise directly with residents who may be affected by parking in advance of work being undertaken.
"We would take this opportunity to remind the public that construction sites are dangerous areas for unauthorised persons, especially children and we would appreciate your cooperation in ensuring that children do not play in or around any site or machinery. Working areas will have warning signs in place to protect the public from any hazards. The public are advised to stay out of these working areas for their own safety.
"NI Water and BSG would like to convey our gratitude for the support of the local community as we prepare to undertake this essential pipelaying work. We assure residents and businesses that we will strive to minimise disruption and complete the work in the shortest possible timeframe."
In addition to the new treatment works being constructed off the Greystone Road and the new pumping station in Carrowdore, new pumping stations have also been completed at Ballywhiskin and Sandycove with work almost complete on upgrading the existing pumping station at Fowler Way in Ballywalter. Various new pipelines have already been installed to link these vital new assets and a new outfall – which will transfer treated effluent out to sea - is also nearing completion.
Find out more about the project here:
https://www.niwater.com/major-infrastructure-detail/10037/18m-ards-north-wastewater-improvement-project/
ENDS
For further information, please email press.office@niwater.com