NI Water's Naimh is Ireland's first ever female Supervising Engineer
25 April 2023 12:20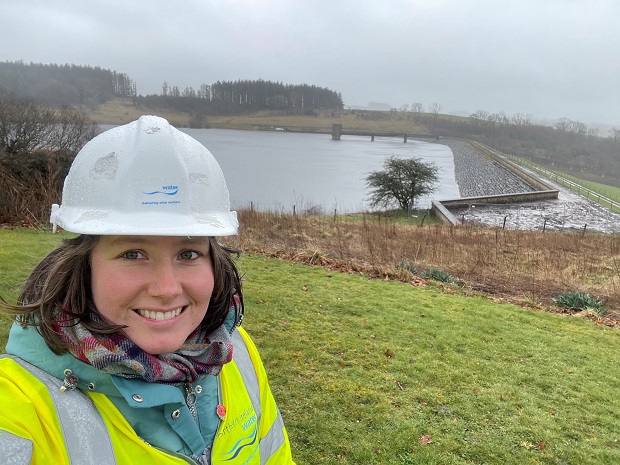 A NI Water employee has become the first female in Ireland to be appointed to the Supervising Engineers (England and Wales) joint panel.
Naimh McElroy, who joined NI Water in 2021 as a reservoir safety engineer, joins an elite group of just three other individuals to hold the formal qualification status in Ireland.
It also means that Naimh, a Chartered Civil Engineer from Newtownards, is NI Water's first ever Supervising Engineer.
For Naimh this is an opportunity to transition some work in-house, bringing with it an opportunity to grow NI Water's team and attract new talent.
Naimh said: "Up until now the Supervising Engineer role was carried out by external consultants. Now that I've achieved this formal qualification status, NI Water can start to transition the work in-house. This will help us meet new legislation regulating reservoirs capable of holding 10,000 cubic meters or more of water above the natural level of surrounding land.
"Together, myself and the new NI Water internal team will inspect NI Water's reservoirs twice a year and report back on their status to NI Water and the Department for Infrastructure. We already have a team of 12 in post and we are hoping to recruit for two new positions soon."
Naimh is now hoping her success will encourage other women to get involved in the industry.
Naimh said: "NI Water is a great place to work. I've always enjoyed working here. There's a good work life balance. It's the combination of working outside but also a desk job. And it's always challenging.
"My advice to anyone considering a career as a Supervising Engineer is to consider the apprenticeships NI Water has to offer. An apprenticeship is a much more financially-viable option that allows you to earn while you learn whilst also making the most of employee benefits such as paid annual leave, all while gaining accredited qualifications. That's the route I'd take if I was starting out again."
ENDS
All media enquiries to press.office@niwater.com