Ensure your homes and businesses are prepared for cold weather conditions
25 November 2014 15:35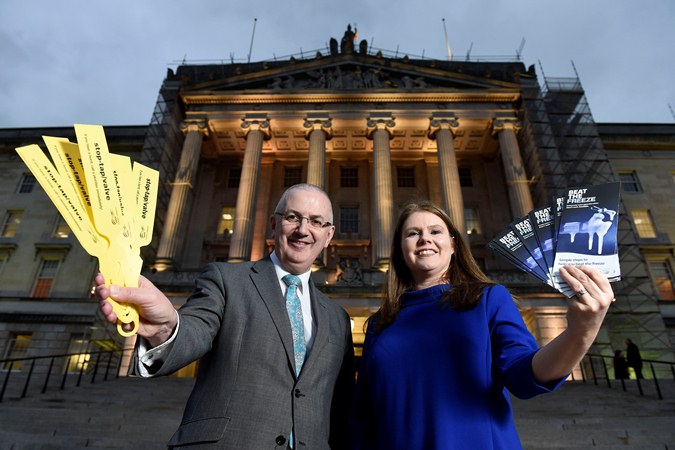 Regional Development Minister, Danny Kennedy MLA and Sara Venning, Chief Executive of NI Water, are urging the public to 'Beat the Freeze'' at the launch of the Winter Preparations Campaign at Parliament Buildings today.
The message calls on the public to check that homes and businesses are prepared for the cold weather conditions.
Danny Kennedy said: "The only thing we can be really certain of when it comes to our weather is that it can be totally unpredictable. We can, however, prepare for whatever winter brings by checking our homes and properties are well protected.
"By taking a few simple steps, we can all play our part and help 'Beat the Freeze'.
The advertising campaign is being rolled out through various media outlets including TV, radio, print and billboards.
The Minister continued: "Preparation is once again at the very core of NI Water's advisory campaign.
"'Beat the Freeze' is a quick and cost effective approach to help combat the cold weather. Simply, take a few minutes to ensure that water pipes are protected and well insulated, if not, then take action now and potentially save money, time and the inconvenience of dealing with a burst pipe."
Chief Executive, Sara Venning, commented:
"There are simple procedures the general public can carry out in order to 'Beat the Freeze'. These include knowing where your stop valve is and keeping the contact number of a registered plumber on hand to deal with any bursts on your property.
"The devastation caused by burst pipes cannot be underestimated. Not only can the water cause structural damage to a property, but the lasting damage in a home can be to personal items, including photographs and electrical equipment such as tablets, iPads and laptops, that may not be replaceable.
"On a wider scale, if you imagine the impact of thousands of litres of water pouring out of burst water pipes; any water distribution network would struggle to maintain continuity of supply in those circumstances. Insulating your pipework is an essential action to protect your water supply and that of your neighbours."
The launch was supported by representatives from a number of organisations, including the Utility Regulator, CCNI, UFU among others.
Further Information- Beat the Freeze