Since the launch of NI Water's Refillution campaign in May 2019, through partnership working with our Councils, we are all improving our environment locally, by asking everyone to refill a reusable bottle instead of buying a single use plastic one.
Councils have approached local businesses and shops, organisations and cafes signing up to support the campaign, display a 'Refill Here' window sticker and a poster, welcoming any member of the public to refill their reusable bottle with tap water. In refilling a reusable bottle with tap water, we are all helping to drive down our carbon footprint. Bottled water is 900 times more carbon intensive than tap water.
A number of Councils have taken the campaign to the next level, and have organised beach and river cleans in their local area to compliment the campaign's aims; reducing single use plastic bottles.
Refillution Toolkit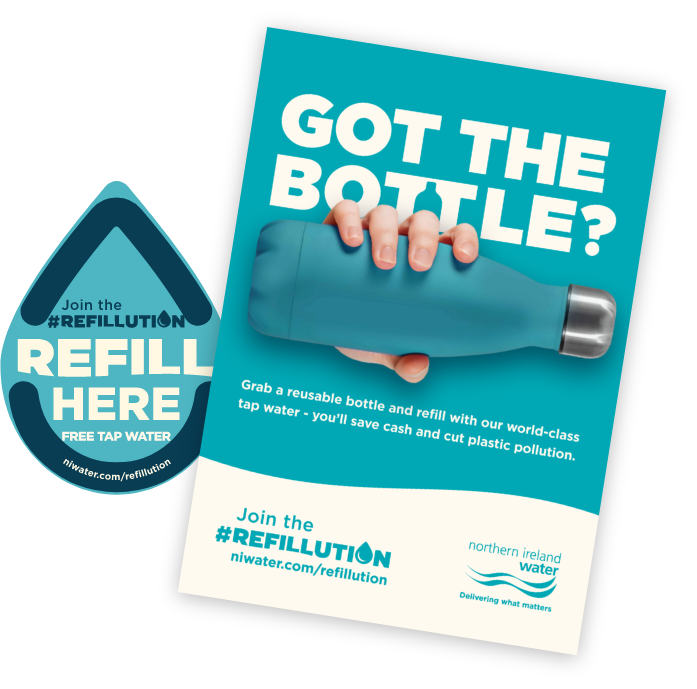 NI Water can provide all of the Council areas and the participating businesses with a 'Toolkit' of materials to support the roll-out of Refillution in their Borough.
This includes:
A number of reusable bottles
Joint press
Council magazine articles
Join the Refillution
If you or your business would like to get involved and 'Join the Refillution,' contact the relevant Council in your area.
Get involved and follow us on social media @JoinRefillution
Downloads
Can't find what you're looking for? Visit the Need our Help section