WaterAid is an international non-governmental organisation working in 27 countries across the developing world. WaterAid is dedicated exclusively to the provision of safe domestic water, sanitation and hygiene education to the world's poorest people.

These most basic services are essential to life, without them vulnerable communities are trapped in the stranglehold of disease and poverty. WaterAid works by helping local organisations set up low cost, sustainable projects using appropriate technology that can be managed by the community itself.
Key Facts
783 million people do not have access to safe, clean, drinking water and 2.6 billion do not have adequate toilet facilities. (WHO/UNICEF Joint Monitoring Programme (JMP) Report 2012 update)
Because of water borne diseases one child will die every 20 seconds. Over 4000 children a day do not survive. (WaterAid, 2012)
The average European uses 200 litres of water every day. In the developing world the average is 10 litres. (WaterAid, 2012)
Just £15 can enable one person to access a lasting supply of safe water, improved hygiene and sanitation.
(WaterAid, 2011)
Northern Ireland Water and WaterAid
NI Water is committed to and is actively involved in supporting the work of WaterAid through fundraising, sponsorship and promotion. Such efforts are co-ordinated through the WaterAid Northern Ireland Committee comprising of NI Water staff and external professional bodies. The NI Committee now raises around £100,000 p.a. for WaterAid.
The WaterAid Northern Ireland Committee held their 100th meeting on the 11th June 2015. The committee now holds more regular meetings than when first established in 1984 and remains committed to fundraising and raising the profile of WaterAid throughout Northern Ireland

WaterAid Northern Ireland Committee Members 2015-2017:
Honorary President:
Bill Gowdy
Chair:
Frank Stewart
Vice Chair:
TBC
Secretary:
Christine McAllister

Treasurer:
Deborah Cooke
Speaker Coordinator:
Anna Killen
Corporate Partnership with WaterAid

WaterAid Northern Ireland Committee 100th meeting milestone
Interested in learning more?
To find out more about WaterAid click here
To request a WaterAid speaker for your group or school contact
anna[DOT]marshall[AT]niwater[DOT]com
Make a donation
If you would like to make a donation to WaterAid to help more people gain access to safe water and sanitation please click here. Thank you for your support.
Taking part in a fundraising event for WaterAid? Why not set up a Woohoo fundraising page, WaterAid own online fundraising page: https://www.wahoo.wateraid.org/uk/fundraiser
New Video:
Tackling the taboo of menstruation
Supporters Trips: First hand experiences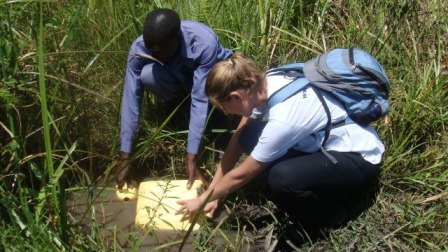 Each year WaterAid organises a trip for industry supporters to visit projects in one of the developing countries they work in. The trip provides an invaluable opportunity to learn first hand what life is like for people struggling on a daily basis to live without clean water and sanitation. The personal experiences enable supporters to return home with greater knowledge and enhanced motivation to raise more funds and awareness for WaterAid.
The WaterAid NI Committee facilitiate this opportunity for supporters in Northern Ireland and in recent years supporters have visited projects in India, Burkina Fasa and Uganda.