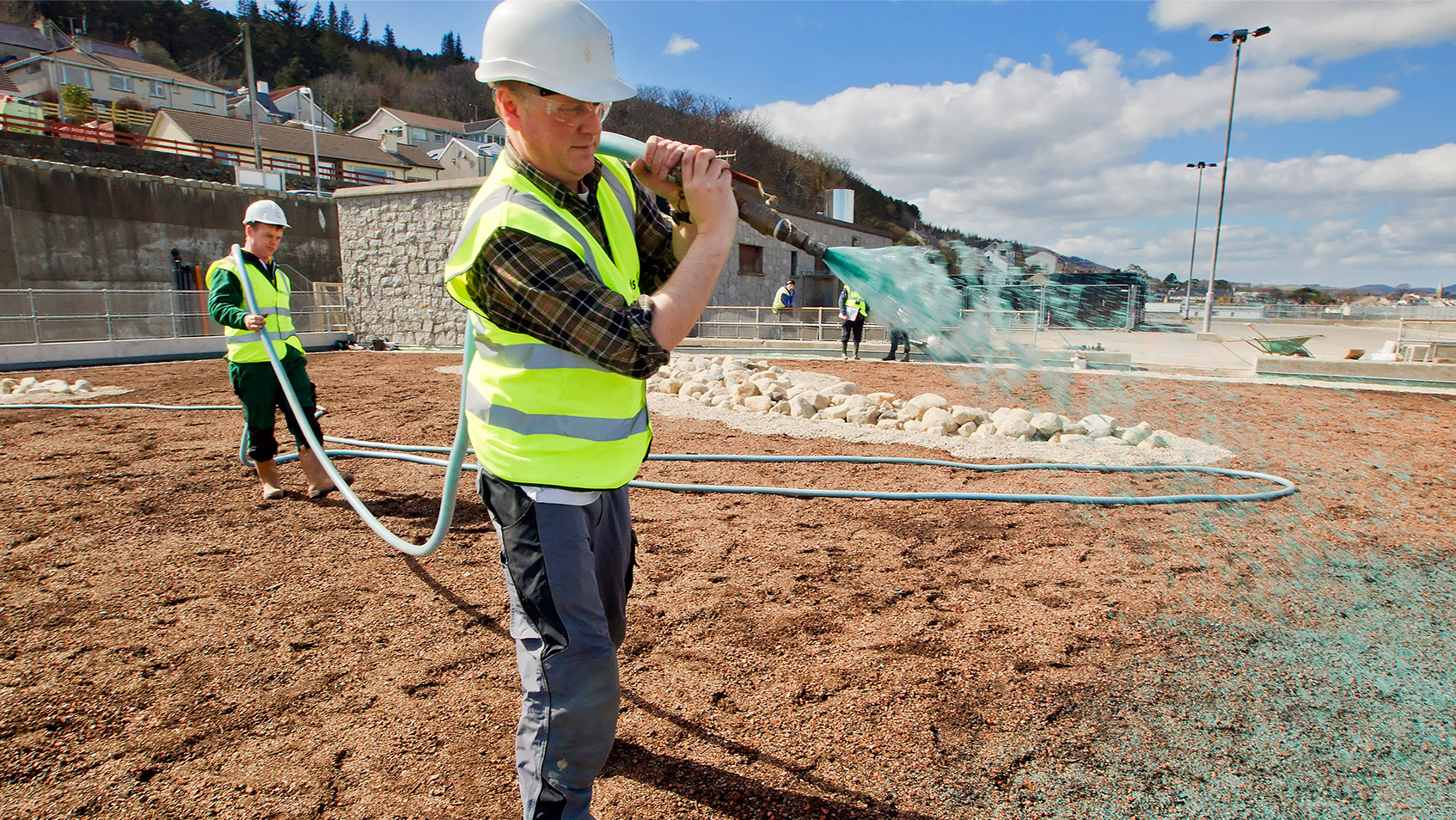 NI Water has devised a unique planting programme to 'green' up the roof on its new £8m extension to the wastewater treatment works at Newcastle harbour.
Using a special process known as hydroseeding, the top of the new 50m-long concrete structure has been sown out with a special mix of indigenous coastal seeds to provide a soft green area which not only offers a more attractive view for the overlooking properties, but which also provides a natural habitat for local birds and insects.
Kieran Grant, NI Water project manager for the scheme explains: "From the outset of this project our aim was to take all practical steps to minimise the visual impact of a large concrete structure on the shoreline within the Mournes Area of Outstanding Natural Beauty, and in doing so, enhance the ecological value of the area by providing a herb-rich coastal grassland habitat for plants, insects and birds."
Working with local landscape experts from the County Down area and members of the Mourne Heritage Trust, NI Water devised a low-maintenance landscape plan that would be rich in biodiversity.
As a further measure towards improving habitats for seabirds, NI Water and its contractors for the project, Dawson-Wam – working with local ecologist, Shaun Wolfe-Murphy - have erected nesting ledges for Kittiwakes on the seaward side of the new building and have developed a resourceful system for nesting boxes out of drainage pipes and small manhole systems. These will be placed high up on the rock armour which surrounds the entire building and it is hoped that many of the Guillemots who flock to the area will make use of them as secure nesting places.
Acknowledging the input from local landscape and ecology experts, Mr Grant said: "In developing this green roof we have been very fortunate to have been able to glean knowledge from a number of local experts with experience of coastal areas, not least members of the Mourne Heritage Trust and I would like to thank them for the time that they have dedicated to this project so far. I know that they, along with ourselves at NI Water, look forward to seeing how the ecological value of the area increases as the green roof matures."