Smiles For Belle
29 May 2009 14:21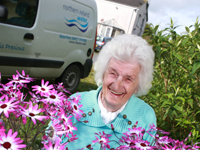 Mrs Belle Savage is one of the first residents to benefit from Northern Ireland Water's (NI Water) £10 million investment programme that will see improvements carried out at minor wastewater facilities across Northern Ireland. The Gransha Road (Dundonald) homeowner often experienced flooding in her garden due to blockages in the communal septic tank. Now, following extensive upgrade work and her house becoming connected to the main sewerage system, Mrs Savage is all smiles and is now looking forward to a more colourful garden.
Martin Gillen, NI Water's project manager for the scheme said: "Despite NI Water clearing the tank on many occasions the system unfortunately kept becoming blocked. We were delighted to be able to resolve the problem with funding made available through the Rural Wastewater Investment Programme."
The £10m investment programme involves the upgrade of processes and refurbishment of numerous small wastewater treatment systems that serve a population of less than 300. Over 40 projects are currently underway; raising the standard of discharge that will bring about environmental benefits in hamlets and villages throughout Northern Ireland.