New Wastewater Treatment Works for Toome
21 July 2009 14:49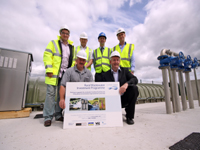 Ballymaguigan Wastewater Treatment Works (WwTW) on the outskirts of Toome has been given a major overhaul by Northern Ireland Water (NI Water) as part of its £10m Rural Wastewater Investment Programme. The programme is an extensive body of work designed to upgrade the treatment systems in villages and hamlets where the population is less than 250 people.
Located at Barrack Road, the new hi-tech works offer advanced treatment processes, bringing the quality of treated effluent into line with the latest EU Directives. The level of improvement is sophisticated enough to cater for development in the area until at least 2018.
Keith Taggart, NI Water's project manager for the scheme said: "Ballymaguigan WwTW is the first scheme to be commissioned under NI Water's two-year rural investment programme. This is a challenging assignment as often these minor wastewater systems have to be installed within tight restrictions so that the existing facility remains operational. NI Water would like to thank Magherafelt District Council for accommodating the works, particularly during the construction phase".
Over 40 projects are currently underway as part of this extensive scheme, delivering significant environmental benefits right across Northern Ireland. NI Water is working in partnership with local company BSG Civil Engineering, based in Maghera and Belfast-based Williams Industrial Services.