NI Water Has a 'Splashing' Time at Ballymena Swimming Club
23 November 2009 14:35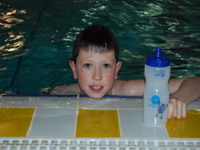 Ballymena swimming club recently showed NI Water's Education Team a 'splashing' time when they came along to a training session to talk to the young swimmers about the importance of drinking water while exercising and brought along 100 water bottles.
NI Water's Anna Marshall commented:
"We are always encouraging young children to drink plenty of water and the bottles are a great way to do this. Even slight dehydration can cause feelings of tiredness and reduced alertness, which will affect a child's interest in being active – therefore impacting on their overall wellbeing.
Water immersion can alter the thirst mechanism, causing swimmers to have a reduced thirst response while in the water. This, alongside the loss of a sweating sensation, means swimmers are particularly susceptible to dehydration.
The club, formed in 1969, and based at the Seven Towers Leisure Centre, provides opportunities for children to learn to swim up to the age of 11 and to compete. They are also celebrating their 40th birthday this month.
For more information on drinking water for health, visit www.niwater.com and www.wateruk.org.uk