NI Water Engineer Scoops Environmental Award
23 November 2009 14:42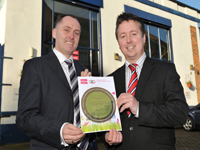 Martin Gillen, who works as a Project Manager in the Engineering Procurement (EP) division of Northern Ireland Water (NI Water) was recently "highly commended" by Business in the Community through the George Dawson Award. This is designed to celebrate the significant contribution made by a business person to improving the environmental performance of their organisation and its impacts upon the environment and wider community.
Martin was recognised for introducing innovative solutions to environmental challenges on projects he has managed such as Fofanny Water Treatment Works constructed underground in the heart of the Mourne Mountains, Limavady Wastewater Treatment Works and the Rural Wastewater Investment Programme. He has strived to bring about environmental improvements and instil sustainable working practices, such as reducing energy consumption at Limavady Wastewater Treatment Works and development of a sympathetic underground design at Fofanny to protect the integrity of the area and a sustainable construction programme which ensured reuse of all excavated spoil from site. These achievements have not only benefited the company, but have also benefited local communities affected by these schemes.
Notes:
This award was established in 2008 to pay tribute to the memory of George Dawson, former Director of ARENA Network. George passed away in 2007 following a short illness. He was with Business in the Community for nine years, and during that time, he developed the ARENA Network programme into a highly respected and successful driver for corporate environmental improvement in Northern Ireland.