Success at NI Water's 3rd Environmental Stakeholder Forum
22 March 2010 8:54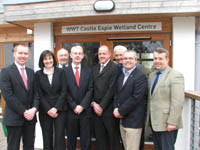 NI Water recently held its 3rd annual stakeholder forum at the Castle Espie Wetlands Centre in Comber. The subject of this year's forum was 'Climate Change – The Challenges for the Water Cycle'.
The event attracted a number of government departments including the Utility Regulator and local non-government organisations such as the Mourne Heritage Trust, RSPB and the Woodland Trust. Speaking at the event was NI Water's Valerie Crozier, Environmental Management System Manager:
"NI Water views the protection of the environment as a major priority and invests significant resources and measures to safeguard it. NI Water's environmental record is improving each year, and due to major capital investment, we have achieved the best ever compliance with discharge consents this year.
"The event gives NI Water an opportunity to inform stakeholders on our environmental performance and progress on issues such as climate change and biodiversity. It also allows us seek stakeholders' input for future strategies."
Other speakers at the event included Rivers Agency, NIEA and Rural Generation Ltd.