Sewer Detectives Launch Major Investigation in Carrickfergus
26 May 2010 11:40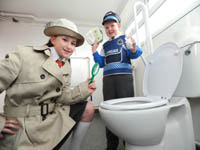 A serious 'grime' has been committed in Carrickfergus and the 'Sewer Detectives' from Sunnylands Primary School are on the hunt for clues as to who is guilty of flushing inappropriate items down the loo!
NI Water recently challenged the cunning young detectives of Sunnylands Primary School to stake out their homes in the hope of unraveling the mystery of who has been putting the wrong things down the loo.
NI Water's Education Officer Anna Marshall, aka Head Detective, explains:
"NI Water is currently running an advertising campaign in Carrickfergus to promote our 'Bag It & Bin It' message. We are encouraging the people of Carrickfergus to be sensible flushers and to only flush human waste and toilet roll; everything else goes in the bin.
"It is easy to develop bad habits at a young age, so it is vital to educate children on the damage flushing the wrong things down the loo can do. We gave each child the task of completing a 'sewer detective' questionnaire to find out what gets flushed at home."
Principal of Sunnylands Primary School, Mrs McFeeters comments:
"NI Water is playing an active role in educating the public on the benefits of disposing their rubbish in a bin. They need the support of the public to make this message a reality and Sunnylands Primary School was only too happy to help."
The sewerage system is only designed to cope with human waste and small volumes of toilet roll. Other items such as cotton buds, nappies, tampons and baby wipes, which people flush down the toilet, do not break up and usually clump together to form a ball of rags.
Gavin McCready, Chief Sewer Inspector in Carrickfergus explains the dangers of flushing inappropriate items:
"The cost of the damage caused to our sewerage system by inappropriate flushing is a major factor. NI Water spends in the region of £1.7 million per year clearing blocked drains, money which could be spent improving services to the local community."
All pupils who return their 'sewer detective' questionnaires will receive an NI Water drinking water bottle.
Further information on NI Water's 'Bag it & Bin it' campaign can be found on our website, www.niwater.com, where a leaflet is available for download.