Vandalism at Sewerage Pumping Stations poses a serious risk
08 July 2010 13:53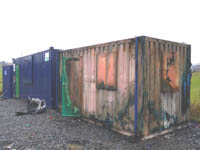 NI Water has raised serious concerns about recent vandalism at Riverbrook Court Sewage Pumping Station near Moneymore. The Station, which manages all the wastewater flows for Moneymore, was broken into earlier this month.
Parts of the surrounding fencing were damaged and vital equipment was destroyed during the break-in, including the control panels in the station. It is estimated the repairs will cost in the region of £4,000. The nearby Moneymore Wastewater Treatment Works has also been broken into on several occasions, which has resulted in NI Water spending over £40,000 on additional security.
NI Water representative, Ian Cowden, who has been dealing with the break-ins, explained:
"While such actions may be considered harmless fun, NI Water would like to stress that there are serious risks, not only to those carrying out the break-ins, but also to the public and the environment.
"The operating system was smashed causing extensive damage to the equipment which could have caused a serious pollution incident.
"Vandals are entering the pump house which is extremely dangerous due to the electrics on site. The deep sludge tanks are also a major hazard, as it would be very difficult for anyone falling into the tanks to be able to get out. Unfortunately, it would be unlikely the emergency services would be able to rescue anyone who has fallen into one of these tanks on time.
"We would appeal to those involved to think about their behaviour and stop immediately. There is also the added risk that young children could enter the Station through the vandalised fence, exposing them to serious injury."
The cost of repairing the damage is also a factor. This work creates a needless drain on resources that could be better used to improve services to the local community.
NI Water needs the help and support of the whole community to protect these vital resources and is calling on those engaging in these acts to cease immediately.
To report an incident at any NI Water site, please phone Waterline on 08457 440088.