Mayor of Limavady Opens £5m Wastewater Treatment Works
14 July 2010 7:34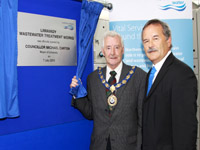 NI Water is delighted to announce the opening of its new £5m Wastewater Treatment Works (WwTW) in Limavady. Located in Mill Place, the new technologically-advanced works will keep pace with rising demand in an area that has experienced significant growth over the past number of years.
Trevor Haslett, Director of Engineering Procurement at NI Water said:
"By replacing an older treatment works which dated back to the 1960s, NI Water has secured future services for the growing population in the Limavady area. The new works will meet the needs of the future population until 2022 whilst preserving the natural beauty of the area."
The new Limavady Wastewater Treatment Works will bring significant benefits for the local population, its economy and the environment. The scheme will provide immediate improvement to the quality of discharge into the River Roe and will result in the overall enhancement of its water quality. The new Works will also ensure that wastewater treatment in Limavady complies with all current national and European regulations now and into the future."
Mayor of Limavady, Councillor Michael Carten, who opened the Works welcomed the new facility saying:
"This new treatment works marks substantial investment from NI Water for the Limavady area. This is good news for local people, tourism and the local environment."
The project is an excellent example of NI Water working with local companies. Limavady WwTW was successfully completed in partnership with Maghera-based BSG Ltd, Mallusk company, WIS, and AECOM, which is situated in Belfast.
Limavady is one of the many projects being undertaken by NI Water to deliver a 21st century infrastructure to Northern Ireland.