NI Water completes £2 million Sewer Improvement Scheme at Belvoir Park
09 August 2010 8:00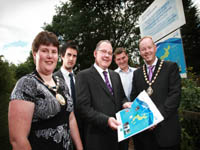 NI Water is delighted to announce the completion of its £2 million Trunk Sewer Project at Belvoir Forest Park. This major investment will bring many benefits to the local community, and significantly improve the sewerage infrastructure in the area.
Since the 1960s an underground trunk sewer at Belvoir Forest Park, which takes wastewater away to the Newtownbreda Wastewater Treatment Works for cleaning, has provided an effective wastewater service for the local community.
However, over the years, a number of landslips damaged this sewer pipe and this has resulted in the area becoming too unstable to carry such a vital sewer pipe.
Responding to the challenge, NI Water and Forest Service worked together to relocate part of the sewer away from the slope, minimising the chance of the sewer damaging the unique environment in Belvoir Park. The existing pipeline was diverted around the Forestry Building within the park boundaries. The two agencies worked closely together to ensure the programme of work was carried out in an environmentally sensitive manner. The team also worked together to re-introduce native species to the park.
Mike Collins, NI Water's Project Manager said:
"A specific pipeline route was identified that avoided environmentally sensitive areas. The timing of the works was also chosen to compliment seasonal development.
"We are delighted to have completed this project with minimum disruption to the local community and we would like to thank Forest Service and the general public for their co-operation throughout this project."
Belvoir Trunk Sewer Project was successfully completed in partnership with Forest Service, Graham Construction and Atkins. The project is one of the many projects being undertaken by NI Water to deliver a 21st century infrastructure to the people of Northern Ireland.