MLA's Learn About Their Local Treatment Works
16 August 2010 10:24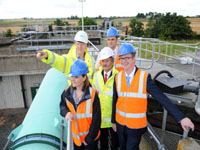 Glen Water and Northern Ireland Water (NI Water) recently hosted a visit for MLAs Simon Hamilton and Michelle McIlveen to Ballyrickard Wastewater Treatment Works (WwTW) in Newtownards.
The visit was a great opportunity for the MLAs to learn first hand about the wastewater treatment process and the major investment by NI Water in Wastewater services for the Newtownards area.
£12 million was invested in the upgraded Ballyrickard WwTW which treats wastewater from Newtownards and Comber. The plant also treats septic tank waste collected by NI Water from the northern Ards peninsula and Comber areas.
The Ballyrickard plant is part of NI Water's £122 million Omega Project which is NI Water's Public Private Partnership Project for treating Wastewater at a number of key locations and Sludge Disposal for the entire province. The scheme also included the provision of a new state of the art WwTW for North Down/Ards as well as the upgrading and construction of existing Wastewater Treatment Works at Ballynacor, Bullays Hill and Seagoe in the Craigavon area, along with Armagh and Richhill.
Glen Water, a joint venture between two of the leading names in the UK water and international construction industry, led the tour and outlined key facts on the plant.
Ballyrickard WwTW is just one example of the scale of local investment by NI Water to improve wastewater services, protect public health, meet European standards, respond to increasing demand, and provide customers across Northern Ireland with a modern service.